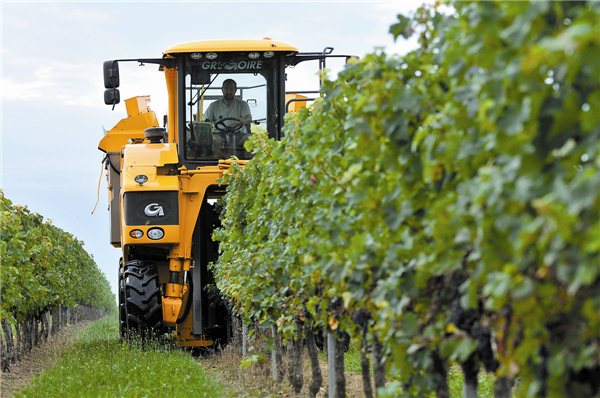 A harvester picking grapes during the 2011 harvest. One machine can harvest as many grapes as 80 workers can pick by hand. Jon Wyand / for China Daily
Nation's rich show interest in wine, reports Dong Fangyu in Beijing
The biggest wine deal in Chinese history ended in tragedy last month when billionaire Hao Lin, his 12-year-old son and two other people were killed in a helicopter crash, their aircraft plunging into the River Dordogne as they toured a chateau and vineyard in Bordeaux.
The 46-year-old hotel tycoon had just purchased the historic Chateau de la Riviere for a reported 30 million euros ($41 million), to date China's biggest deal by value in the estates of one of the world's most famous regions for fine wine.
Hao's purchase highlighted the growing influence of Chinese investors in the French region in recent years. There are approximately 8,000 chateaus in the Bordeaux area and around 70 of them have been bought by Chinese investors, according to an e-mail from Karin Maxwell, one of the founding partners of Bordeaux-based real estate broker Maxwell-Storrie-Baynes, an exclusive affiliate of Christie's International Real Estate.
Chinese interest has been so great that Maxwell-Storrie-Baynes has a dedicated China desk. According to Li Lijuan, who is in charge of the desk, Chinese investors have been involved in more than 20 transactions over the last 12 months.
"One can only gain a vague idea of the number of Chinese vineyard owners in Bordeaux. Some rich Chinese investors hold Western passports, while others keep a low profile and demand nondisclosure of their transactions," she said.
Chinese entrepreneurs now own almost 1 percent of Bordeaux's chateaus. That figure may be small, but it indicates a shift in the social status of Chinese people in France, according to Li.
The chateaus and vineyards are associated with the upper echelons of French society, and while an apartment in Bordeaux will cost around 200,000 euros and a villa 400,000 euros, buying a vineyard costs millions, generally more than 10 times the price of regular property.
"There's no doubt that the local people were surprised when the Chinese - who until recently were usually stereotyped as restaurant staff - suddenly came to buy their chateaus", said Li.
Cultural concerns
Because wine making is an integral part of French culture, some locals have expressed concern that the sales of chateaus to the Chinese will result in a diminution of their heritage, according to media reports.
However, Jonathan Ducourt, sales manager of Vignobles Ducourt in Bordeaux, doesn't share that opinion. The Ducourt family has been in the wine business since 1858 and is currently the region's largest wine-producing group by family corporation, with estates covering 440 hectares and 13 chateaus.
Related: China still has a long way to go