Paris dreaming in downtown Hong Kong
Naturally, the wine list contains many French labels with a good choice of red and white wine as well as cocktails. We settle on a dry white to go with starters of calamari, eggplant cannelloni and salads laced with warm goat cheese and seared tuna.
The starter choices are a pleasant surprise, as I find that many bistros are sorely lacking in the greens department.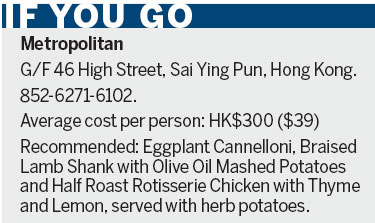 These don't disappoint, but neither are they overwhelming. The plump aubergine with a tomato stuffing is the winner for me. The salads could be more bountiful, though the cheese adds a good edge. The calamari energized with lemon could have been crunchier.
As Metropolitan boasts its own rotisserie, one of its signature dishes is chicken and we give that a try. It is served in halves and is a generous main with a heaping bowl of savory potatoes.
I love the delicately crispy skin and the way the chicken is simply prepared: just a bit of thyme and lemon to round out its inherent flavors mellowed by slowly rotating on a spit. When cutting into the succulent meat, the juices run clear onto a wooden board. My mouth is watering even as I am eating it.
Braised lamb shank is also one of Metropolitan's signature dishes and it is a heaping plate of tenderness on a white bed of mash. With just the faintest nudge, the meat is falling off the bone. It is slow cooked in its own juices, with the creamy potatoes a perfect way to soak up all of the complex flavors.
Steak tartare, another staple, is well seasoned and exquisitely fresh. And since we love the cannelloni so much, we also try the eggplant parmigiana, which is equally as good as its appetizer cousin.
Desserts of apple pie and banana split are homey comforts to end our meal, with Nespresso being the house coffee.
Metropolitan offers lunch size portions of some of its signature dishes in convenient sets.