Small Town restaurant delights the palate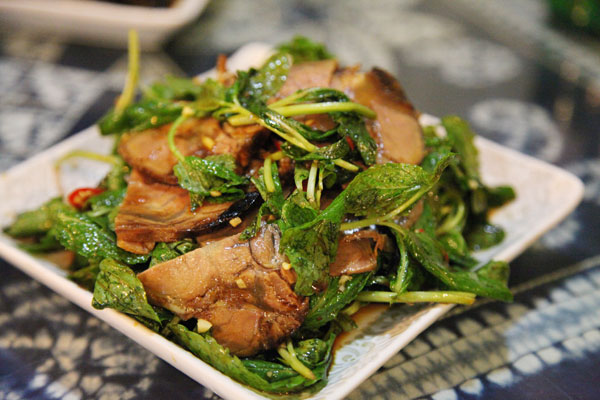 Beef tastes refreshing with mint and chilies. [Photo by Fan Zhen/China Daily]
It is no surprise that a chef in his mid-20s will start his career in the heart of Beijing's most happening area.
The chef in question is Chen Tao. He hails from Simao in southern Yunnan, and restaurant Yun Er Small Town is the working realization of his dream to bring fine Yunnan cuisine to the hipsters of Gulou in Beijing.
A few years on from the grand opening, Yun Er Small Town is still partying on harder than ever, with an unfailingly high standard of food.
It is located on Beiluoguxiang, the calmer northern counterpoint of the bustling Nanluoguxiang, and is easily spotted by the bright red lanterns that hang outside the door. They act as a cheerful beacon for those in search of somewhere warm, inviting and buzzing with life.
Step over the threshold and into the premises and you're bound to have the same first impression - Yun Er Small Town is delightfully fun.
Our party of three takes a table in the second room. It is stationed under the wooden latticed doors and has a gaudy blue-and-white tie-dyed tablecloth.
The walls around us are decorated with a smattering of framed photographs and tribal masks. They are matched by an eclectic array of odd lampshades hanging from the ceiling. The one above us is made from paper and tassels, tattooed with Chinese characters. The one hanging from the light on the other side of the room is made from smooth bamboo.
My favorite is the one nearest the door. It is a cage of heavy, un-sandpapered wood that is woven together in an interesting design. The picture menu boasts an offering of Yunnan specialities that would prove to be just as merry as the decor.
The Chinese cabbage in clay pot is tempting with an interesting English translation "cloud on a tree". But even more alluring is the promise of steamed rice in pineapple.
There are smiles all round when the glazed glutinous rice mixed with pineapple chunks comes nestled in the casket of a hollowed-out pineapple. It is warm and fragrant, and the melt-in-your-mouth sweetness is a delicious counterpart to our otherwise savory meal.
Perhaps almost as exciting as the pineapple are the mushrooms. Yun Er Small Town is definitely a must-visit for any mushroom enthusiast.
Yunnan is renowned as one of the largest mushroom-producing areas in the world, and the exotic fungi feature heavily on the menu. There is everything from porcini to agaricus bisporus.