Paris dreaming in downtown Hong Kong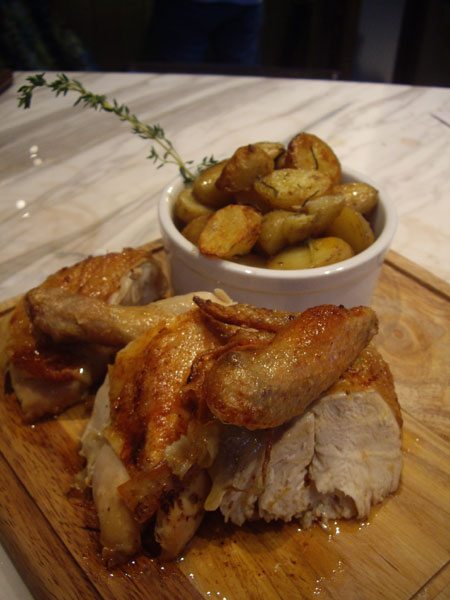 Roast rotisserie chicken with thyme and lemon is Metropolitan's signature dish. [Photo by Rebeccalo Lo/China Daily]
One of my favorite Parisian memories is lounging at an al fresco cafe enjoying an ice cream after spending the morning checking out the Pompidou's latest exhibitions. It was a warm day in mid-October, and it seemed like the entire city decided to play hooky, soaking in the sunshine and people-watching at the city's ubiquitous terraced outlets.
Now I can approximate the same experience in Hong Kong at the bistro Metropolitan.
Designed by local food-and-beverage guru Kinney Chan, about one-third of the restaurant is devoted to a large tiled terrace with tiny marble tables behind a weathered metal gate. Inside, the length of one side is devoted to an open kitchen and bar, with chef Frank Lebiez darting back and forth overseeing his sous chefs.
Wrought-iron trusses spaced along the ceiling are inspired by the art nouveau style of historic Parisian metro stations. The walls are decorated with iconic black-and-white photos of the city at its most romantic.
Owner Jerome Spitzer established French Creations with partners Olivier Caisson and Lebiez. Metropolitan follows the success of his previous outlets Pastis, Saint-Germain, FAB and Le Boudoir, although it is his first foray into the Sai Ying Pun district.
After studying at a Swiss hotel school, Spitzer worked in both hospitality and finance before relocating to Hong Kong five years ago.
"The Sai Ying Pun area has a good mix of locals and expats," says the Frenchman. "I've always believed that its F&B was underdeveloped and has a lot of potential. Ever since the escalator opened, this street has really been busy."
Centre Street, the neighborhood's steep pedestrian artery, boasts outdoor escalators similar to the ones in Central, though the final connection between High Street and Bonham Road is still under construction.
On a Thursday evening, the bistro was buzzing. My friends and I decided that we wanted to try as many of the restaurant's signature dishes as possible and ordered everything to share.