Of gardens and gourmets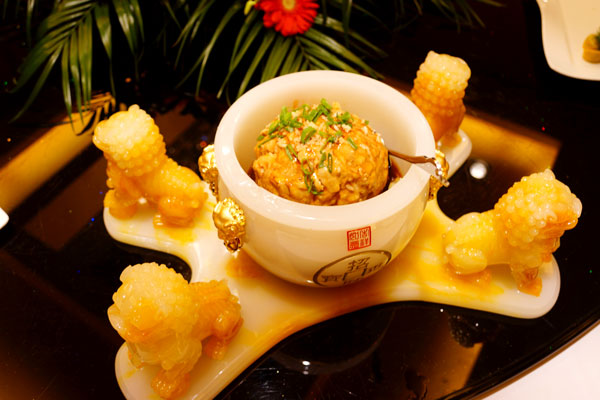 Yangzhou offers much for foodies, such as  crab roe buns and steamed dumplings, smoked fish and the pork meatballs known as "lion's heads". Photos by Ye Jun / China Daily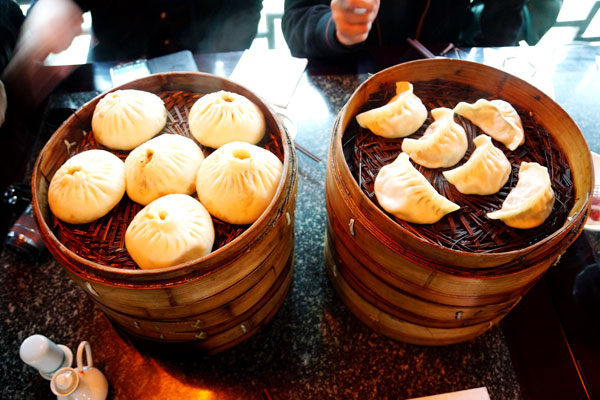 Crab roe buns
Yangzhou is acclaimed for its manicured scenery but deserves equal recognition for its cuisine. Ye Jun reports.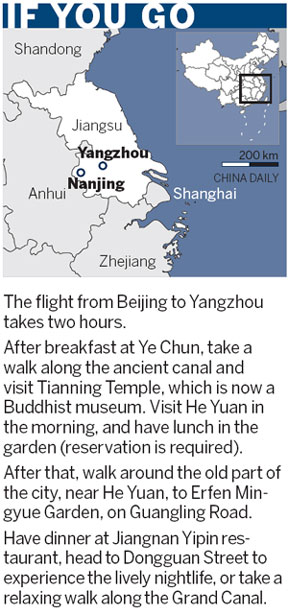 Jiangsu province's Yangzhou is best known for its lakes and gardens. But this city of beautifully arranged swathes of water and flora has also sired an idyllic cuisine that makes it a foodie's paradise.
A group of food reporters from Beijing recently explored its culinary delights under the guidance of such local gourmets as Yangzhou Lion Pavilion restaurant's owner Wu Songde.
Yangzhou's food is healthy and light but tasty. It's known for its elaborate preparation and abundance of seafood, Wu explains.
A prime specimen of Yangzhou's fare is the shizitou - a pork meatball known as a "lion's head" because of its appearance - from which Wu's eatery takes its name.
Wu's take on this traditional treat is created using black pork with finely diced water chestnuts, which gives the meatballs a surprising crunch.
Yangzhou's residents start their days with "morning tea" - that is, local breakfast staples.
One of the most popular places for the first meal of the day is Ye Chun. It serves typical fare - boiled bean curd slices in soy sauce, marinated tender pork slices, salted mustard leaf with bamboo shoots and marinated vegetables.
I dug into breakfast with dim sum master Chen Ende, whose students serve as Ye Chun's head chefs.
I was surprised to discover the "plain noodles" - yangchunmian - are anything but.
They come without any other ingredients aside from seasonings - shrimp roe soy sauce, sesame oil, pork fat, white pepper, shallots and boiled water.
But yangchunmian offers just one case study of how, when it comes to noodles, Yangzhou's chefs make simple super.
I was astonished to discover the low-end Jiangjiaqiao Dumpling and Noodle Restaurant's stir-fried noodles, which cost a paltry 3.5 yuan (56 US cents), were among the most delicious I've ever tasted.
After sunset, we head to Yangzhou's ancient Grand Canal, which is illuminated by a dazzling array of lights. The 1,700 km waterway was built about 2,400 years ago as one of the country's major trade routes, stretching from Hangzhou, capital of today's Zhejiang province, to Beijing.
Then we turn down Dongguan Street - a 1 km stretch of trendy shops, bars and restaurants in traditional buildings. It's a great place to swill sweet rice wine and nibble baked sesame cakes with turnip slices.
Many high-end eateries here are converted from old manors, such as Jienan Shuwu, which occupies a salt dealer's former residence, and Hu Zhonghan Hall, the ancient abode of a powerful bank owner.