Master Lu gives cooking demonstration in Beijing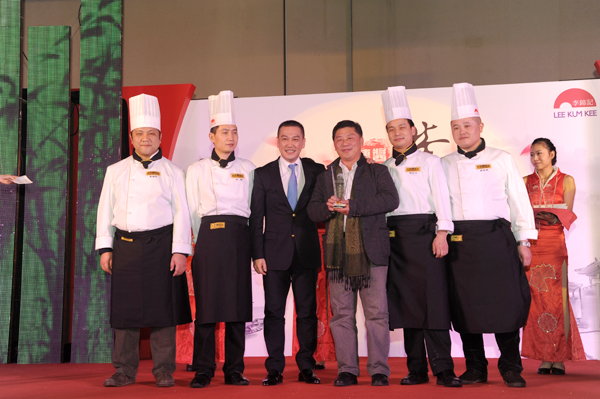 Award-winning Chinese culinary master Lu Yongliang led his team to give a cooking demonstration recently in Beijing.
The event, sponsored by Chinese sauce maker Lee Kum Kee, was joined by food industry insiders and media representatives.
In May last year, Lu Yongliang, a Hubei food master, led his Wuhan culinary team, which comprises four chefs, to win the group competition of the Lee Kum Kee Cup International Cooking Competition, in Jiangyin's Huaxi Village in Jiangsu province.
At the opening session of the food demonstration in Beijing, chef Lu practiced calligraphy with the root of a shallot.
The Wuhan cooking team then reproduced their award-winning dishes, including a soup with fish paste shaped like orange slices, and a creative ginseng-shaped steamed dim sum made of flour.
Lu said Hubei cuisine is characterized by an abundance of fish dishes, rich knife work, and superior cooking skills.
Zhou Zhiyi, general manager of Lee Kum Kee China, said the Chinese culinary tradition is very rich, with a strong regional and cultural background, and is one of the treasures of the 5,000-year-old civilization.
Zhou said that his company wants to promote regional cuisine and support the development of the Chinese culinary culture.