Culinary cause for celebration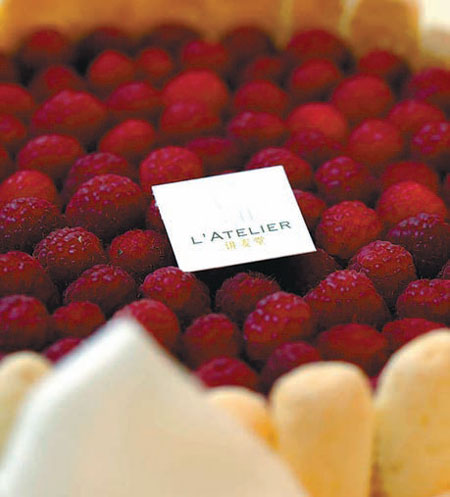 Charlotte framboise is one of the good-looking pastries served at L'Atelier. [Provided to China Daily]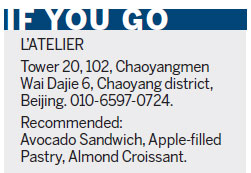 Cafes like L'Atelier only rarely appear in Beijing and when they do, it's a cause for celebration. Entering L'Atelier you feel like you've walked into a culinary heaven as you are greeted at the door by welcoming smiles and the warm fragrance of fresh-baked goods.
The open style cafe allows you to watch what's going on in the shop.
You can hear the whirling of the Cuisinart mixers at the workstation, where baked goods are being produced right on the spot.
The glass counter is filled with good-looking pastries: plain and chocolate croissants, buttery palmier, rhubarb tarts, scones, apple turnovers, apple tarts, and chocolate cakes, eclairs, lemon cheese cake and meringues. There are also a variety of tasty breads, including multigrain, walnut-raisin wheat bread, ciabbata and baguettes, long and short in several versions - classic, poppy seed, sesame seed, pesto and garlic.
L'Atelier also has nice savory items, including sandwiches such as croque monsieur, toasted to a golden brown. A wide variety of salads are available from 11:00 am.
I tried many different things, including the avocado sandwich laced with thin sliced cucumber, tomato, curly lettuce, with the baguette smeared with a honey mustard dressing. It was a great combination of healthy and light vegetables.
All the sandwiches come with a side mixed green salad. I love the apple-filled pastry and almond croissant, which are delightfully delicious. The choquettes are wonderful light munchies for in between meals. Each cup of coffee is freshly brewed accompanied by heated Wonder Milk in a mini pitcher.
The force behind L'Atelier is Aurore Chieng, a Paris-born Chinese who worked her way up from the bottom, starting off as dishwasher, ice cream scooper, waitress, cashier, host, floor manager and eventually cook. Chieng earned her degree at the Gregoire Ferrandi School, where she mastered her baking and pastry skills.
From here she went on to work for several different well-known pastry chefs, picking up a wide variety of skills and experience. We're fortunate that she chose to open her first pastry shop, L'Atelier, right here in Beijing.
And she has big plans.
"My priority now is to improve, to grow in depth but not yet in breadth," Chieng says. "We are developing catering, personalized cakes, different ways to express our creativity. We need to launch chocolates, sweets, and macaroons, on a larger scale."
"While building L'Atelier, I wanted to open a little shop with a few good, reliable and original products," she continues. "I wanted a place that would sell fresh and quality products, reasonably priced, in a friendly atmosphere."
The cafe is designed simply but with an elegant touch. The white painted walls are adorned with alluring black and white photographs - cracked eggs, dusted dough, cream whipped, expressing the bakery's philosophy - baked goods taste their best taste when everything is fresh.
This excellent French cafe has a cheerful atmosphere that makes you want to linger over your coffee and pastry.
sundayed@chinadaily.com.cn