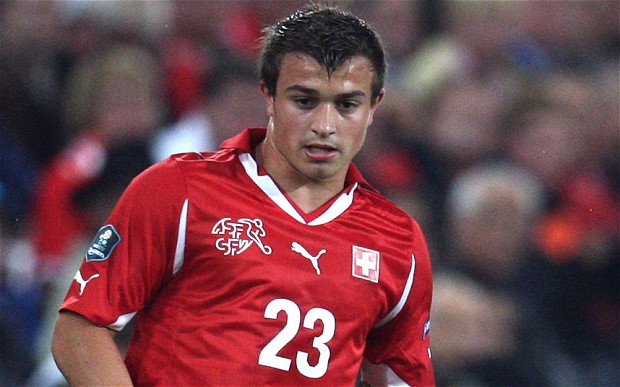 How they qualified
Unbeaten in Europe's cakewalk group with seven wins and three draws, finishing seven points ahead of runners-up Iceland.
World Cup high
Quarter-finalists three times, most recently as hosts in 1954 when they were knocked out by Austria in a 7-5 thriller having been 3-0 up. The match was played in 40C heat and remains the highest scoring in any tournament yet.
World Cup low
Lost all three group games in 1962 and again four years later where the nadir was a 5-0 shellacking by West Germany at Hillsborough.
Familiar faces
Philippe Senderos (Fulham), Pajtim Kasami (Fulham), Johan Djourou (Arsenal, on loan at Hamburg).
The manager
Ottmar Hitzfeld, who won seven Bundesliga titles and two European Cups as head coach of Borussia Dortmund and Real Madrid, took over in 2008 having turned down the opportunity to manage Germany in 2004.
How in danger is he?
Has already announced that he will retire at the end of the tournament.0/10
Most likely to light up Brazil
Bayern Munich's Xherdan Shaqiri is a tricky, skilful and pacy No 10 for his country though often exiled to the left flank by his club.
Most likely to be sent home in disgrace
Tranquillo Barnetta was sent off against Slovenia for two fouls and along with Philippe Senderos is a survivor of the epic punch-up they had with Turkey following victory in a World Cup play-off in 2005.
Title odds: 150/1
The stereotype is …
An 11-man recruitment drive for Dignitas.
The reality is ...
Generously seeded but they do have promising, hard-working and surprisingly subtle midfield skill allied to good organisation and positional discipline. Very light up front – a striker of Rickie Lambert standards would improve them.
What they're known for?
Secret banking 31 per cent
Cuckoo clocks 47 per cent
Heidi 8 per cent
Lava-hot liquid cheese 14 per cent
How Brazilian are they?
To bowdlerize Harry Lime: as close as a cuckoo clock is to the wonders of the renaissance.
How Google translates the national anthem
God wants the citizen, citizen of God, God does.
Duration
One minute and five seconds, apparently of torture for the Swiss government which considers it so old and boring that they are holding a competition to choose a new one in 2014.
Commentator's go-to stat
Seven billion triangular chunks of Toblerone are manufactured each year in the city of Bern.h