Zico: Luiz Felipe Scolari's Brazil in shape to top Group A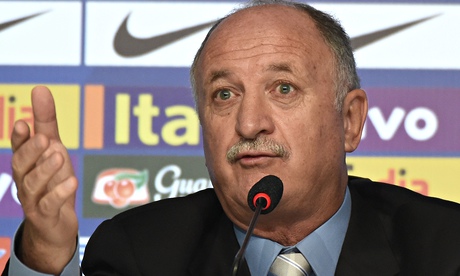 Big Phil and Brazil drew Croatia, Mexico and Cameroon in Group A. Photograph: Vanderlei Almeida/AFP/Getty Images
From August 2013 to February this year I lived in Qatar where I coached the local side Al-Gharafa. Since my return to Brazil one thing has stood out: while previously World Cup fever would be there for all to see, the atmosphere now is much more subdued. I haven't seen the bunting and painted streets that you might expect to be part of preparations here. To me, it looks like the protests might have put some fans on the back foot, but with a month to go before the tournament starts I wish I could see a bit more joy among the people.
I don't blame them. Our preparations have not been the best and people are right to complain about spiralling costs and delayed works. The public purse is funding the World Cup and people are entitled to feel aggrieved. Having said that, I don't really think anybody is against the World Cup per se, but the problems in preparation have soured the mood. Brazil undeniably needed to revamp the stadiums and, simply for all our history in football, we deserve to host the World Cup. In 1950, when we first did, Brazil was a wholly different country and certainly not as representative as it is these days.
That has nothing do with the team, though. The Seleção has managed to enthuse fans over the last year. While their Confederations Cup title needs to be seen in context, Luiz Felipe Scolari has certainly managed to steady the ship. It is important to give credit to his predecessor, Mano Menezes, who took over in July 2010 and promoted several new players, including Neymar. The core of Scolari's team – Thiago Silva, David Luiz, Oscar, Daniel Alves and Paulinho – was already playing under Menezes.
I had the chance to see that team in action in October 2012, when I was in charge of Iraq. It was a weird situation because we were about to play Australia in the Asian qualifier for the World Cup and I asked the Iraqi football federation to find me an opponent with similar style. I suggested Wales. Instead, they brought me Brazil, by no means what I wanted and even less so after they hammered my team 6-0.
Scolari did some sifting and fine-tuning with the team and imprinted his philosophy. Brazil are organised and compact but they also go for the opposition's jugular. The fans enjoyed it, especially after the Seleção beat Spain in Rio and I think Big Phil is doing well with the players he's got at hand. As for his choice of squad, announced last week, all I can say is that everybody can make a list and disagree with one or another name. But this team has every chance of winning the tournament.
Whether they will is another story. I think the Seleção had a lucky group-stage draw. Both Croatia and Mexico arrived via the playoffs and Cameroon are not as threatening as in previous years. Croatia will play Brazil without Mario Mandzukic, for example, while Mexico were almost edged out by Panama in qualifying. So I think Brazil are in shape to top the group convincingly, which will give the players confidence ahead of the knockout stages.
One thing that does worry me is that the majority of this group haven't experienced a World Cup. While it's nothing new for the Seleção to enter a World Cup with high expectations, this time things are different because Brazil are at the home and the last time that was the case, in 1950, they came up short. Which is why I hope they won't face Uruguay, perhaps the only team Brazil have seriously struggled against in recent times. In the Confederations Cup semi-final they did not allow Brazil to impose their rhythm and put theSeleção under a lot of pressure. I said before that tournament that Uruguay could psychologically rattle Brazil and so they did.
Then there is the fact that Brazil lost the World Cup to Uruguay in 1950. If they were to play each other again people would bring up what happened 64 years ago. That cannot be helpful to anybody. So I will be honest with you: as much as I think Uruguay have some great players to watch, I hope they don't go far in the World Cup, perhaps not even past the group stages.
Having said that, Brazil cannot handpick opponents if they want to win this tournament. What I have seen from these players is that they are aware of the importance of this competition for the Brazilian people. With the crowd on their side Brazil can be daunting.
It is probably an advantage that most of the European teams with Seleçãoplayers didn't do well in the Champions League. The players should turn up for national duty in a better shape. At this point, an injury could be a problem for any team, but so far Brazil have been spared.