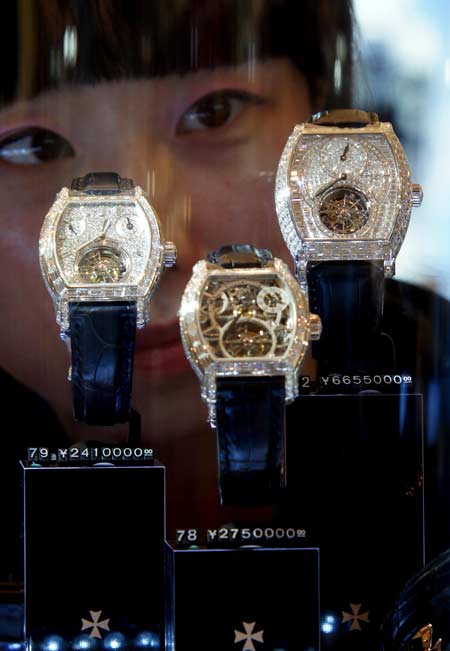 A customer looks at Swiss brand Vacheron Constantin watches in Zhengzhou, Henan province.
Shan Wei, managing director of Parmigiani Fleurier Asia Pacific, says there is no need to panic.
"Every industry has its ups and downs. I won't call it a crisis in the whole Swiss-watch industry. We won't be reacting in a big way," she says.
The brand sell several hundred watches per year in China.
On China's social network websites, overseas buyers have been encouraging people to buy Swiss watches before the price adjustment.
Swiss watch exports to China in November last year were valued at 92.1 million Swiss francs, 27.6 percent less than the same period in 2013 and 46.8 less than in 2012, according to statistics of the Federation of the Swiss Watch Industry.
The surge in the Swiss franc is also supposed to affect the costs of skiing vacations in Switzerland. However, the immediate effect is limited because it's the slack season for European travel, tourism agencies say.
"Most of the tours to Europe don't stay in Switzerland for a long time," says Yan Xin, manager of the public affairs department of Ctrip, a leading online travel agency. "So we won't adjust the price. For tours that focus on Switzerland, we will raise the price, but not too much," he says.
While the effect on tourism today is limited, if the Swiss franc keeps appreciating, then Chinese tourists would probably consider other parts of Europe rather than Switzerland, says Rao Tian, general manager at China International Tourism Service's overseas department.
Both agencies say that, so far, there has been no big change in the number of tourists who buy travel packages to Switzerland.
But that could change, says Huangfu Yining, a staff member at the Beijing branch of the Swiss National Tourist Office, in an e-mail. "If the Swiss currency keeps surging, the reservations from the nearby Eurozone are expected to fall, especially from Germany and Holland. However, we are still optimistic about faraway countries with different currencies," she says.
The price for Swiss team tours is expected to rise after the Spring Festival, she adds.