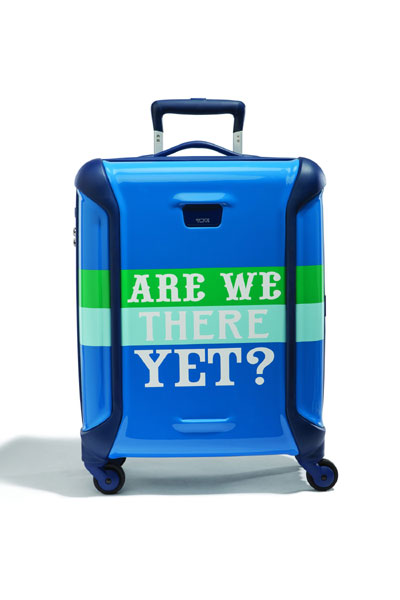 Vapor Polycarbonate Continental Carry-on from the Jonathan Adler collection.
"Hard-sided luggage is more of a staple in Asia. We are constantly asking ourselves if our hard-sided luggage is lightweight enough. I believe that Tegra Lite is the solution: It is both lightweight and durable."
Nelson feels that Tumi's global citizen campaign aptly reflects the brand's customer base.
"Our customers are men and women who are leaders in their fields. Whether they are businessmen or artists, they perform in their daily lives and they want products to support that lifestyle. Every day is a journey for them. It's not just about travel."
To that end, Nelson adds that less than half of what Tumi offers is travel-related. The company's full range of products includes day bags, business accessories and even eyewear, made from materials sourced from all over the world. The brand's retail shops are strategically situated in many busy international airports, leading department stores and shopping malls.
"There is a lot of opportunity for us to grow," he says.
"We are expanding carefully and selectively. Labeling ourselves as a luggage company puts us into a box, literally and figuratively. Instead, we see ourselves today as a lifestyle brand."
Contact the writer at sundayed@chinadaily.com.cn
If you go
Tumi
Shop 223B, Ocean Terminal, Harbour City, Tsim Sha Tsui, Hong Kong.
852-2113-0200.