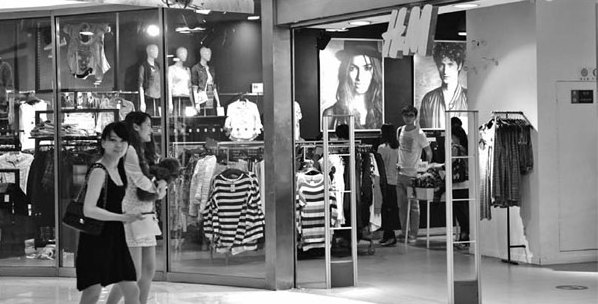 Shoppers outside an H&M store in Nanjing, Jiangsu province. Provided to China Daily
Global brands look to speed up expansion plans
Foreign fast fashion brands are stepping up the pace of expansion in China, where the growing ranks of style-conscious customers and new shopping centers are boosting their sales.
Motivi, a fashion brand under the Miroglio Group SpA, an Italian textile and apparel maker, has seen double-digit growth in China this year, Aldo Spaanjaars, the group's managing director in China, said in an interview with China Daily.
After Italy and Russia, China is the group's third-largest market, he said.
Miroglio, which holds 50 percent of E&P, a local Chinese fashion brand, is looking at more local brands for merger and acquisition opportunities.
Spaanjaars said that Italian women favor a unique personal style, while Chinese women prefer to look like their peers.
Therefore, in Italy, the stores stock very limited quantities. "What is sold is sold and they bring something new next," he said.
But in China, success relies heavily on being the best seller, which keeps generating sales, he added.
As a fast fashion brand, inventory is the least of the company's problems. "We have new products every year. We slow down what we buy when inventory is up and we react fast," he said.
The brand has launched an online shop on Tmall to de-stock products that are not sellling well, he said.
Armed with their full brand portfolio, foreign fast fashion brands have crowded into the nation's swelling ranks of shopping centers.
Related: