The last thing most people would expect from a hair accessory is for it to function as a hygrometer. That's an instrument that measures humidity in the atmosphere. But this is exactly the kind of head piece - as well as ring, bracelet, pendant, earring and epaulet - that Elaine Ng Yan Ling sets out to create.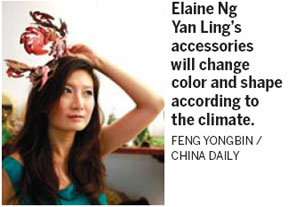 The pieces make up the British-Chinese designer's latest collection, Dancing Wooden Skin, which debuted at the Beijing Design Week recently.
The fashion accessories are made from wooden sheets, fabric and thermoplastic, an invention Ng calls "smart veneer". The material allows the pieces to change colors and shapes - or "dance" - according to the humidity, temperature and sunlight they're exposed to.
They can dress you up and, at the same time, tell you how to dress up.
"Whenever I go to America, I never understand how to convert from Fahrenheit. It's so different from Celsius," Ng says in an interview at her Beijing home studio, tucked in a hutong off Houhai Lake. "If I say, 'What's the temperature like tomorrow?' and somebody responds, 'It's 75 F'. What is 75 F? You have to study the unit, otherwise the numbers will be meaningless."
With her smart veneer designs, you only have to look at how their swirls behave. "Oh, it's curled, so it's quite hot today. If it's flat, it's cold," says Ng, who was awarded a 2012 TED Fellowship for her work on smart materials.
Related:
More Chinese invest in luxury furniture