When art is a party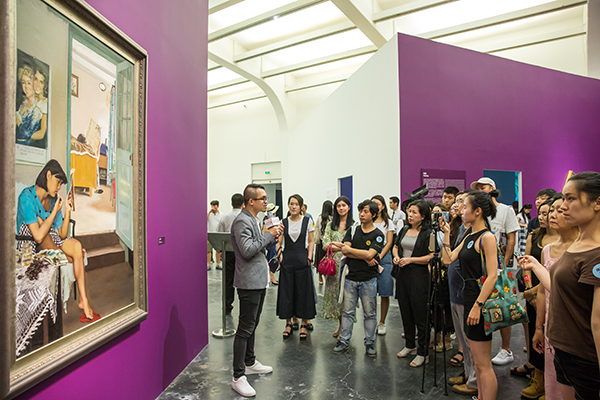 Visitors view the painting, The Lipstick Girl, which is one of Zhao Bandi's earliest works. [Photo provided to China Daily]
Beijing-born artist Zhao Bandi says he uses a party as a metaphor for society. The 51-year-old adds that at a party he is able to observe what is happening and keep some distance from it.
His performance-like project Underwater Chopin Party staged on the outskirts of Chengdu in September 2016 was attended by friends, curators, gallerists and collectors.
The party was at a villa with a pool. There, 13-year-old Hu Tianke played Frederic Chopin's works on a piano placed in the water. Zhao, who was also standing in the pool, painted on a canvas while she played.
The project generated two products-a video recording of the Chengdu party and an oil painting depicting the girl playing in water. They are now on show at Zhao Bandi: China Party at Beijing's Ullens Center for Contemporary Art.
Zhao says that like at a party there are a lot of elements and bustle in Chinese society, beneath which he sees worries and uncertainties.
The exhibition covers his 30-year career. Oil paintings from the late 1980s to the early 1990s are displayed.
They provided him initial fame as a realist painter, who uses rigid composition and measured brushstrokes.
Also on show is his Giant Panda series. Works are presented as performance-art videos, short films, installations and fashion designs that have made him controversial.