Young artists encouraged to be brave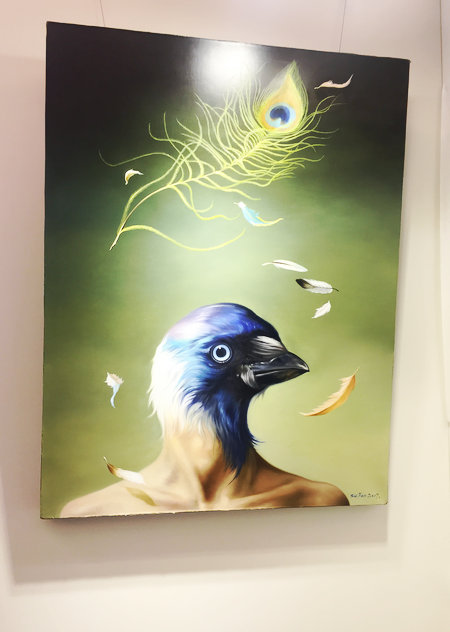 A painting showcased at the 2017 Eye Art International Youth Exhibition, April 23, Beijing. [Photo by Li Hongrui/chinadaily.com.cn] 
A man with a fox head puts a stone in a bottle; another with a bird's head looks directly out from the canvas, while a large green cupboard with many drawers appears to be a page from a large picture book.
These three paintings are among 50 works by young Chinese artists being showcased at the 2017 Eye Art International Youth Exhibition at Penn Wharton China Center in Beijing on Saturday.
Being energetic and creative, young artists in China are expressing their identity through their paintings, dances and music.
Their youth gives them a fresh take on the world and relationships. Personal experiences, social changes in China and Western culture have all influenced their creations and distinguished them from their predecessors.
Veteran artists, intangible culture heritage inheritors and experts in the art field and auction company were invited to give advice to young artists at a small workshop after the opening ceremony of the exhibition. Wang Chunchen, a professor at Central Academy of Fine Art, encouraged young people to be braver and break new ground.
"To young artists, the priority is to do the things they like. 'I want, I like and then I create'," Wang said. "Never ask if your creation is art or not, just do it."
Zhang Zhongqiang, the only inheritor of making clay rabbits for Mid-Autumn Day in Beijing said he want to find what young artists like from these showpieces. And he worried that young Chinese artists would not appreciate traditional crafts.
Organized by Eye Art International, the exhibition aims to promote expression, dialogue and understanding of world cultures through exhibitions and art activities.
The show in Beijing will run until April 29 and will tour Israel and New York later in the year.