Artists share perspectives on climate change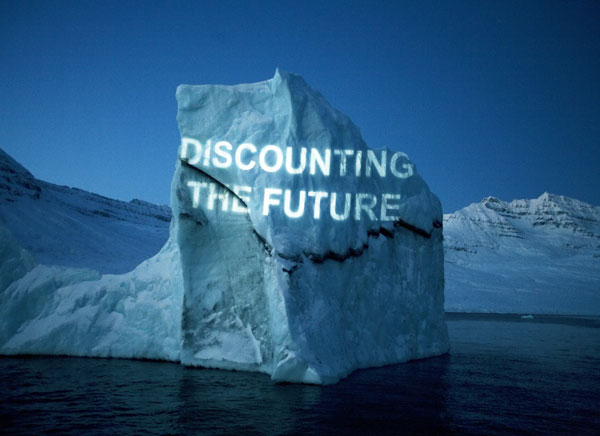 The ongoing exhibition features a photograph by David Buckland of an iceberg.[Photo/Provided to China Daily]
Countless analyses and debates are the result of Beijing's air pollution and water concerns. Now a new vision is offered by the art world.
An art exhibition about climate change, Unfold: A Cultural Response to Climate Change, is now on display at the Central Academy of Fine Art Museum in Beijing.
The exhibition presents works by 25 artists following their expeditions to High Arctic and the Andes with Cape Farewell, an international nonprofit climate-change arts organization.
The exhibition looks at climate change from a personal and cultural angle, says David Buckland, founder and director of Cape Farewell.
"When talking about climate change, people talk about science and politics, but we think climate is culture," Buckland says.
"If you talk to a scientist, he would talk of abstract ideas about how much the temperature or the sea level is changing. But what an artist does is to take a complex subject and make it into a personal story, something that's easier to understand," he adds.
The exhibits include an installation by architect Sunand Prasad, music by KT Tunstall and Robyn Hitchcock, sculpture by Daro Montag and Francesca Galeazzi, photography by Chris Wainwright and David Buckland and a LED text display by Ian McEwan.
A small piece that could be easily missed is Heather Ackroyd and Dan Harvey's Polar Diamond, an artificial diamond compressed from the ash of a polar-bear skeleton that the duo found near the North Pole.
"So the question is: which is more valuable, the little diamond or the polar bears?" Buckland says.
The show also features Buckland's photographs of icebergs projected with slogans like "Discounting the Future", which are marred by cracks in the icebergs.
"It's something the banks used to say, you don't have to worry about the future, all you have to do is to make the money now. But then the whole financial world collapsed. It's the same case here, you can discount the future, but this piece of ice won't exist any more," he says, insisting that humans are going "the wrong way" now.
However, the exhibition aims to inspire, rather than to condemn.
"When we have something like climate change, the only way through it is to find more and more creativity. We have to take this as an opportunity to create a new place to go to rather than say, 'Oh, it's gonna be bad.' If you are creative, it can be very beautiful and exciting. And that's the metaphor for the exhibition," Buckland says.
After the exhibition, Wainwright - the co-curator of the exhibition and pro vice-chancellor of University of the Arts London - will lead a photography workshop in Beijing to focus on the city's pollution.
"We are very aware that the artists in education today are the professional artists of tomorrow. It's very important to put the subject of climate change on the education agenda," Wainwright says.
Before coming to Beijing, the exhibition toured Vienna, London, New York and Chicago. The organization is now planning another expedition to the Russian Arctic next year. Buckland says he hopes that he will be able to bring two Chinese artists this time.
"This is a ground-breaking moment for Cape Farewell. We have been trying to come here for ages. As Beijing faces its own problem of air pollution, I hope that Unfold will challenge and inspire local audiences and artists to think differently about the natural challenges they have," Buckland says.
The exhibition is running through June 19 in CAFA Art Museum. It will reopen in the Art Museum of Nanjing University of the Arts on June 28.