Still strong at 100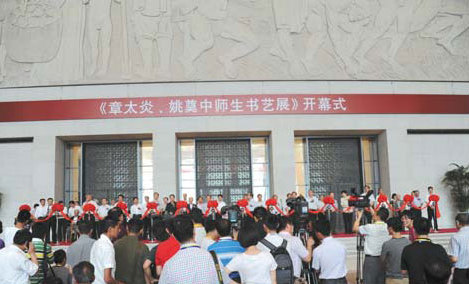 The special showing of works by Zhang Taiyan and Yao Dianzhong opened at the National Museum of China in June last year. Photos provided to China Daily
In long life of creativity and accolades for centenarian Yao Dianzhong, the artist is still producing his unique brushwork, Zhuan Ti reports.
An old Chinese adage says that the style is the man - a man's handwriting is a window into his personality and character.
Now at the age of 100, renowned calligrapher and painter Yao Dianzhong is living proof. His work reflects his deep strength.
The centenarian has been practicing Chinese calligraphy every day since he was very young and is still doing it today.
It is a gift he showed very early in life.

His uncle was a noted scholar who often helped others in his village to read and write.
Under his guidance, Yao received systematic education in Chinese culture.
His interests in calligraphy also grew day by day. It was to become his lifelong calling.
But the person that has the most important influence on Yao is Zhang Taiyan, one of the best-known masters of ancient Chinese culture in modern history.
Yao was among Zhang'a students back in the 1940s and is the only one still alive today.
Zhang, who was also a calligrapher, offered valuable help.
Due to that influence, Yao devoted himself to teaching ancient Chinese culture his entire life.
He taught courses on ancient Chinese culture for more than 70 years and his students are now all over the country.
And in his spare time, he always continued his hobbies.
He is now famous for his calligraphy, poems, paintings and seals - but he is best known for his unique calligraphy.
"Yao has injected his deep understanding of the ancient Chinese culture and his spirit into his calligraphy works," said Huang Jun, a member of the China Calligraphers Association.
"Yao's scripts are natural and imposing, and full of variety," he said. "It is obviously a result of his decades-long practice and remarkable self-cultivation."