Centuries-old pingshu back in spotlight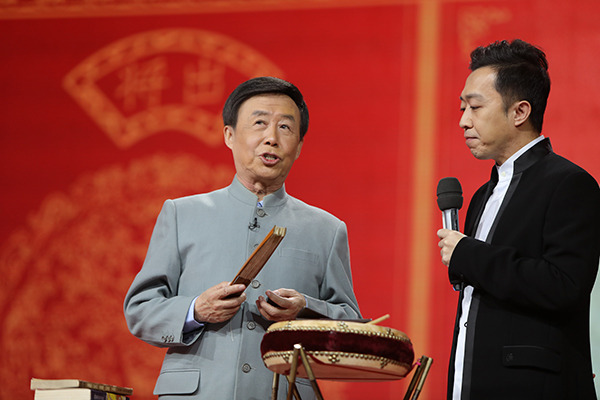 [Photo provided to China Daily]
Once limited to audiences on street corners or teahouses, pingshu gained unprecedented popularity from the mid-1980s to the mid-1990s, thanks to a number of programs that ran on television and radio, the dominant entertainment platforms at the time.
As a pioneer to usher in the "golden decade", Tian was the first person to appear on television screens and perform pingshu on a show run by Liaoning TV, the provincial broadcaster, in 1985. He is also the first pingshu artist to wear a suit instead of a traditional gown.
On the Liaoning TV shows, he was telling the stories of Yang Jia Jiang, the classic novel penned by Ming Dynasty (1368-1644) author Xiong Damu. To make the traditional art form more intriguing to modern audiences, Tian explored ways to innovate.
"A traditional pingshu show lasts for two hours. The first 30 minutes act as a prologue and the plot twists appear in the following 90 minutes. But that would not work for a television show. It's too slow. Audiences would switch to another channel," explains Tian.
As Liaoning TV limited Tian to 20 minutes per episode, he rewrote the scripts, cut the introduction to three minutes, and added stunts to spark the audience's imagination.
"In the past, pingshu was an art form to be listened to. But since television has popularized it, it has become more of an art form to be watched," adds Tian.
Propelled by the success of Tian's shows, one of the highly-rated TV programs of the time, more than 20 television stations - including the country's most-watched broadcaster CCTV - produced similar shows, prompting pingshu to rise to the peak of its popularity.
But the glory faded after the mid-1990s, due to falling production standards and the rise of television dramas. Over the past decade, pingshu programs have almost disappeared from TV screens.
In 2008, pingshu was inscribed in China's national intangible cultural heritage list, putting it back in the spotlight. The rapid growth and popularity of the internet has helped pingshu to reach more audiences through online video clips.
Now with Beijing Pingshu Dahui, the centuries-old art form has made a return to television screens after a decadelong break, and may witness a revival, says Tian, with an excited gleam in his eye.