Domestic movies reign at the box office this year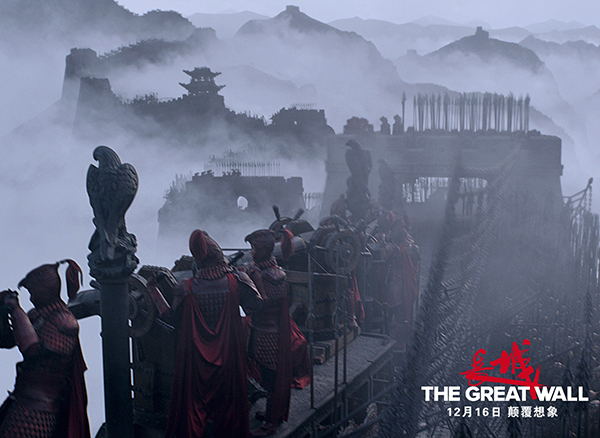 Chinese actor-director Wu Jing's Wolf Warrior 2 and Zhang Yimou's fantasy epic The Great Wall are among the most successful Chinese movies overseas this year.[Photo provided to China Daily]
Dong Wei, an emerging director who recently saw his debut The Looming Storm win two top awards at this year's Tokyo International Film Festival, also senses the change.
He says the cooling market has helped to squeeze out a number of unqualified filmmakers and reduce the number of poor productions.
Liu Hanwen, head of a movie-research institute affiliated with the country's top regulator, regards the new box-office record as a landmark worthy of celebration and a sign that China is a major force for growth in the global movie industry. Rao Shuguang, secretary-general of the China Film Association, says the theater-admission numbers are an important means of assessing China's potential in the industry.
"The rise of admissions shows that more and more people are walking into cinemas. Chinese people have gotten used to watching movies as part of their major cultural consumption," says Rao.
"It gives industry players hope and opportunities but also means they should aim to produce better films to widen their appeal."
According to domestic media reports, China now has over 48,000 cinema screens in more than 8,500 cinemas, a sharp increase over 3,024 screens in 1,325 cinemas in 2006.
With China seeing an unprecedented expansion in its domestic market, Chinese-made films making forays into overseas markets are also making progress.
The latest available figures show that Chinese movies' overseas sales totaled 3.52 billion yuan by mid-October, with the top title being Zhang Yimou's fantasy epic The Great Wall.
The movie featured such Hollywood stars as Matt Damon and Willem Dafoe, and was screened in mainstream cinemas across North America - a sign that coproductions may boost Chinese films' international appeal, Miao says.
Wolf Warrior 2, China's highest-grossing film of all time, is another case in point that exemplifies efforts by Chinese filmmakers to increase their influence overseas.
Wei Jingyi, vice-president of leading Chinese overseas distributor CMC Pictures, says Wolf Warrior 2 has so far been shown on more than 300 screens in over 40 cinemas in 16 countries and regions worldwide, including Sri Lanka and Tanzania.
Raking in a total of around $4.85 million overseas, Wolf Warrior 2 has become the highest-grossing Chinese mainland movie of all time in Malaysia. It topped the Chinese-language film charts in Australia and New Zealand.
"Most of the overseas audiences are Chinese, but we've also seen some European viewers walking into cinemas to watch Wolf Warrior 2. Foreign distributors are becoming more interested in Chinese content," adds Wei.