Sharing economy turns new page with books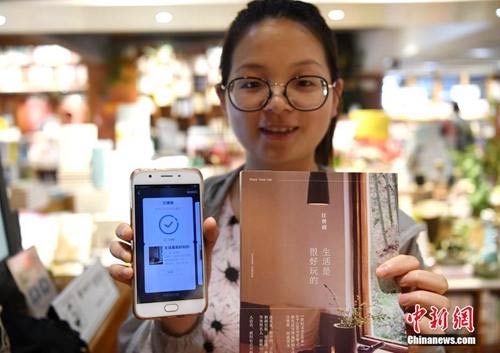 A woman shows a book she just borrowed online. [Photo/Chinanews.com]
From sharing bicycle to sharing car, China's sharing economy has now swept into the book industry. Alipay, an online payment platform under Alibaba, has launched express delivery of borrowing books and sharing bookshelf services in five cities earlier this year, according to Chinanews.com.
Sanxiaokou Xinhua Bookstore in Hefei city of Anhui province, which declared itself as the "first sharing bookstore in the world", opened to the public in July this year. The reader has to download an app and pay 99 yuan ($15) online as deposit, then he can borrow two books with a total value of less than 150 yuan by scanning the QR code. If the reader returns the books within 10 days, it will be free of charge, or one yuan will be charged for each day after expiration.
Besides, the bookstore also has "reading scholarship", with the registered customers receiving one yuan reward each time if they return books on schedule. If the customer reads 12 books in three months, he will be returned 8 percent of the deposit money as reward. During the first month of the bookstore's operation, the number of books being borrowed and returned reached nearly 80,000.
In addition, banks are also involved in the sharing economy, with two branches of China Everbright Bank in Beijing opening book borrowing services this year. Users can borrow books after registering through the official WeChat account and paying the deposit.
"Whether through selling books, sharing books or some other way, as long as books are being read, they have achieved their values. Culture can be delivered in different forms," said a woman surnamed Huang, who is a book-lover and likes the sharing book mode. "Compared with borrowing books from libraries, the large bookstores update their shelves more frequently and are more professional, so readers can enjoy their favorite books more easily."