Festival shines spotlight on accordion music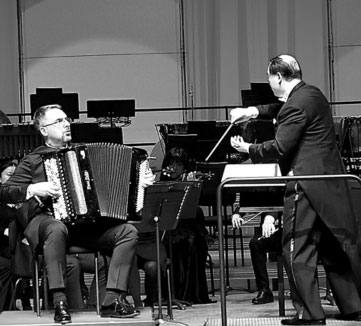 Polish accordion player Klaudiusz Baran performs at the International Accordion Festival in Beijing. [Photo provided to China Daily]
When accordion player Klaudiusz Baran, the rector of the Fryderyk Chopin University of Music in Warsaw, premiered Polish composer Marcin Blazewicz's Concerto for Accordion and String Orchestra in Beijing along with the symphony orchestra of the Central Conservatory of Music and its conductor Yu Feng, they received long ovation from the audience.
"This is not only the piece's premiere in China but also the first time that we played together, which is a great celebration of the instrument," says Baran, referring to his cooperation with Yu and the Chinese students at the concert during the third International Accordion Festival on Nov 14.
The festival, initiated by the Central Conservatory of Music, which ended on Sunday, brought together musicians from around the world, including Finland, Germany and Spain.
The event, which is held every three years, premieres works by Western composers commissioned by Cao Xiaoqing, the director of the accordion department at the Central Conservatory of Music.
A concert, titled Composers Talk About Chinese Elements, was held at the school on Friday, featuring pieces, including My Motherland by Finnish composer and accordion player Petri Makkonen and Great Wall by Spanish composer and accordion player Gorka Hermosa.
Speaking about his piece, Makkonen says: "I used to compose based on my homeland. So, this is the first time that I have composed for a different country."
Makkonen was born in Iisalmi, central Finland, and started to play folk music using a piano and accordion at the age of 8. He graduated from the Sibelius Academy in accordion playing and composition and teaches at Kuopio Conservatoire in Finland.
"When Cao gave me the Chinese version of My Motherland, I was impressed by its smooth melody. Since the accordion is such a versatile instrument, I tried to tell stories with this melody."
Veteran Chinese-Australian composer and pianist Chu Wanghua also had his accordion concerto, Song of Life, perform at the festival.
"Compared with the piano and the violin, there are few original pieces written for the accordion, which is a pity for the instrument. So, audiences are not aware of the potential of this instrument," Chu says. "I hope more Chinese composers will write for it."
Song of Life features Chinese folk songs. The piece had its world premiere in Australia in June when it was performed by Chinese accordion player Xu Xiaonan, who teaches at the Central Conservatory of Music.
According to Cao, the Central Conservatory of Music launched its accordion major in 2004.
This year, four of Cao's students stood out among 78 competitors at the 54th Klingenthal International Accordion Competition, which was held in May in Germany.
"Their success not only brings China attention but also encourages more young Chinese to learn the accordion. It's a revival for the instrument," says Cao.