Brussels exhibition showcases traditional Chinese lifestyles and culture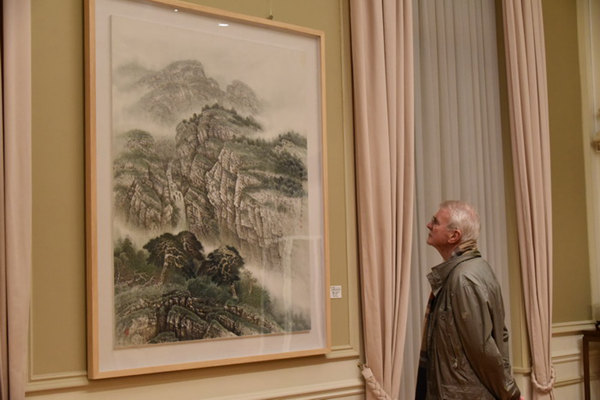 A visitor looks at a painting on display at the exhibition In Pursuit of Harmony - An Exhibition of Chinese Traditional Cultural Lifestyle in Brussels, Nov 2, 2017. [Photo/Chinaculture.org]
An exhibition showcasing traditional Chinese culture and ways of living is being held at the China Cultural Center in Brussels.
Titled In Pursuit of Harmony - An Exhibition of Chinese Traditional Cultural Lifestyle, the cultural event covers paintings and calligraphies, workshops and lectures, narrating the time-honored "four areas of elegance" in traditional Chinese life: viewing paintings, smelling incense, tasting tea and arranging flowers.
A total of 29 works of art are on display, presenting China's vast landscapes in paintings, calligraphies and stone sculptures. In a workshop set up on the sidelines of the exhibit, visitors also have a chance to try Chinese tea and enjoy Chinese incense.
Speaking at the opening ceremony Nov 2, Xiang Shihai, councilor of the Chinese embassy in Brussels, said the event is a rare opportunity for locals to learn about age-old Chinese culture and to appreciate the art of living among elite Chinese in ancient times.
The exhibition runs through Nov 29.