Literary attraction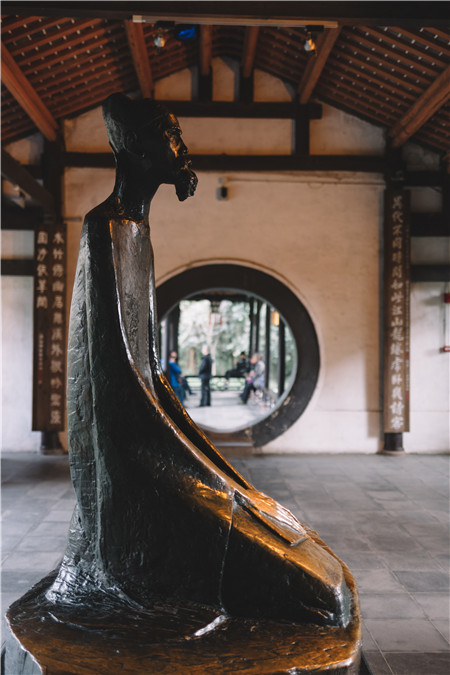 The Du Fu Thatched Cottage Museum in Chengdu, Sichuan province, is built around the location where the acclaimed ancient poet built his family cottage in AD 760. It also includes traditional structures. [Photo by Ding Hao/China Daily]
Sichuan's capital is composing a new chapter in developing its tourism by commemorating the ancient luminary poet Du Fu. Huang Zhiling reports in Chengdu.    
Chengdu is literally writing the literary legacy of acclaimed ancient poet Du Fu in stone. Tan Jihe and his wife, Qi Hehui, visit the Du Fu Thatched Cottage Museum in Sichuan province's Chengdu every month.
Tan, who's the Sichuan Provincial Association of History's president, and Qi, who's a professor of Han Dynasty (206 BC-AD 24) and Tang Dynasty (618-907) culture, are advisers for the Chengdu municipal government's ambitious plan to erect 1,455 tablets, each with a poem by Du Fu (712-770).
The tablets inscribed by famous calligraphers will be displayed in the museum surrounding the cottage and the adjacent Flower-bathing Brook Park.
The 150 million yuan ($23 million) project will be completed next year.
Qi became vice-president of a national society for the study of Du located in the museum in 1980. She and her husband can't recall how many times they've visited since.
"But we still feel the culture every time," she says.
The 16-hectare museum is built around the location where Du built his family cottage in AD 760. It includes a traditional classical garden.
The poet was a native of today's Henan province, who moved to Chengdu in 759 as a refugee of an eight-year war waged by two rebel generals.
He lived in the Chengdu cottage for about four years. He penned about 400 of his 1,455 poems there.
Du lived during the beginning of the Tang Dynasty's decline.