China Educational Channels to air in Middle East and North Africa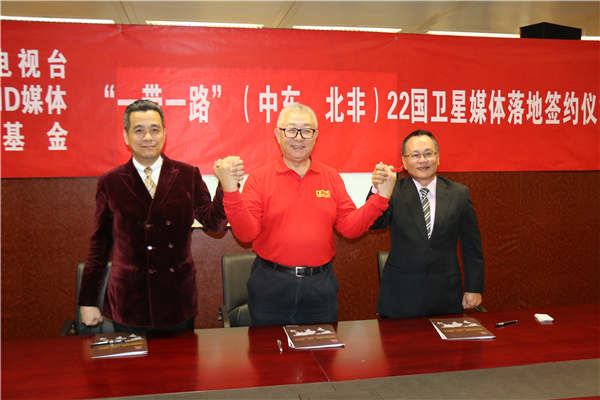 China Educational Channels signs a contract with Dubai-based My HD Media in Beijing, Oct 25, 2017. [Photo provided to chinadaily.com.cn]
China Educational Channels (CEC) signed a contract with My HD Media, a paid TV platform based in Dubai, on Wednesday to help spread Chinese voices to the Middle East and North Africa.
The cooperation marks a mutual beneficial and win-win strategy for the two sides, with the CEC providing high-quality TV programs and My HD Media providing broadcast channels through its satellites and coverage in the Middle East and North Africa.
"I believe that, through the cooperation, we will be better at telling Chinese stories and spreading Chinese voices, following President Xi Jinping's guidance", Li Shiqiang, head of China Educational Channels, said at the signing ceremony. "We would like to spread Chinese voices to the Arab region to renew the friendship between us."
China Educational Channels, which began broadcasting in 2009, is noted for teaching Mandarin and the introduction of various aspects about China, such as tourism, education and health. The TV channels have covered the US, Canada, Australia, and Southeast Asia, marking it as the largest and most professional international Chinese media on Chinese culture overseas.
My HD Media, established in 2012 and headquartered in Dubai, is the first and only high-definition paid DTH (Direct-to-Home) TV platform that charges a low price and covers 22 countries in the Middle East and North Africa regions.
The collaboration between China Educational Channels and My HD Media is expected to make contributions to the fusion and development of global cultures.