Reliving Chongqing's wartime past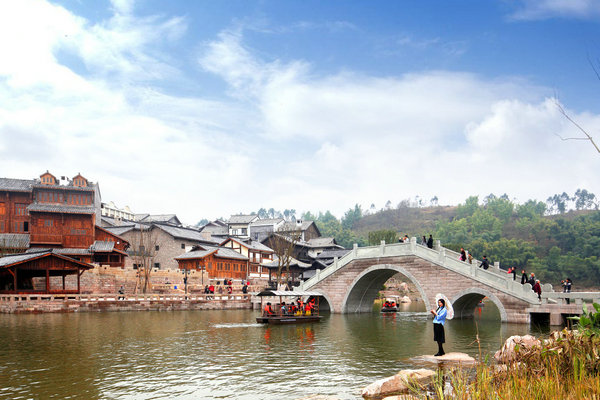 The Liangjiang International Movie City in Chongqing, China's wartime capital during the War of Resistance Against Japanese Aggression (1931-45), features replicas of old streets and historical buildings that bring visitors back to the 1930s. Many people rent costumes to dress up as residents or even movie stars of that time as they walk around the city. [Photo by Tan Yingzi/China Daily]
Surrounded by two rivers, the mountain city of Chongqing attracts droves of tourists with its blend of 360-degree landscapes, spectacular night views and delicious spicy food.
But just a one-hour drive from the city's downtown lies another side to Chongqing at Liangjiang International Movie City, which preserves its illustrious past as China's wartime capital during the War of Resistance Against Japanese Aggression (1931-45).
In 1937, the Kuomintang government led by Chiang Kai-shek established Chongqing as China's capital and the southwestern city began to play a critical role in the Asian theater of World War II.
During that time, the inland city witnessed a sudden influx of government officials, bankers, businessmen, scholars, diplomats, writers and other social elites from the rest of China.
The former Soviet Union was the first country that submitted a request to set up an embassy in the wartime capital. The Soviet move was followed by similar requests from more than 30 other countries, including the United States.
The city soon became the new center for the country's politics and culture, and quickly developed into a dynamic metropolis.
Opening last December, the movie city features a replica of six Chongqing main street blocks from the 1930s containing over 220 historical buildings, as well as riverside neighborhoods featuring wooden houses and docks from the era, and sections of the city's ancient walls.
The shops, cafes and restaurants around the scenic area offer authentic food and drinks from the 1930s, while a range of cultural activities are offered to help evoke memories of the old days.
A trip to the movie city is like traveling back in time.