Jingdezhen: Heart and soul of China's ceramics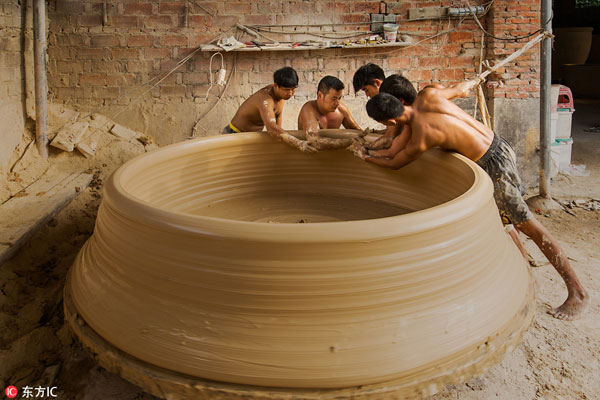 A group of craftsmen cast clay mode of a large-size porcelain in Jingdezhen, Jiangxi province, on Oct 18, 2017. [Photo/IC]
Preserve the city's soul
Huang, 35, earned her master's degree in archeology at Beijing University and first came to Jingdezhen in 2006 for archeological research and soon fell in love with the city.
"When I was picking up ceramic chips from the pit, I felt like I was having a dialogue with history," she says.
Talking to local people, however, she was surprised to find they were completely ignorant of the local clay mine sites.
In 2014, she and her husband settled down in the Jinkeng village, a site of ancient ceramics kilns about eight kilometers east of the city proper.
She rented 16 hectares of land, growing rice and chrysanthemums, and renovated the area so she could work with the raw ceramics material. She also hosted a series of salons on local ceramics culture.
"It is my hope that this place can be a venue of learning and discussion of porcelain culture," she says.
"We are preserving not only the ancient site itself, but the soul of Jingdezhen." 
Several abandoned ceramics plants became bustling again last year, with the creation of the Taoxichuan ceramics-themed community, where chimneys stand alongside workshops, cultural centers, galleries and restaurants.
But Liu Huojin's factory has not yet been included.
"Its protection is on the government agenda," he says. "I hope that future generations can see the remnants, and feel proud of Jingdezhen and its ceramics."