City has a starring role in movie firmament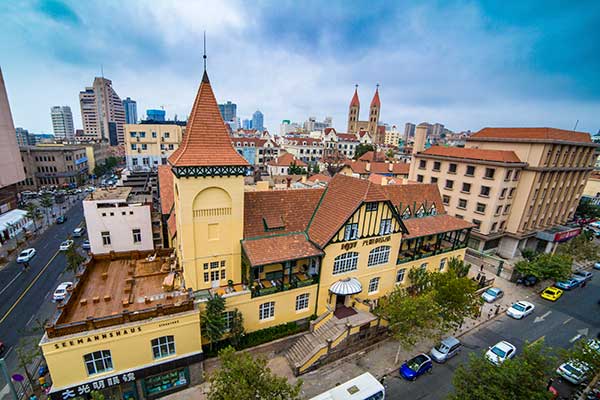 The 1907 Movie Club in Qingdao, Shandong province. The building, completed in 1902, was the former Qingdao Seamen's Club. Now, after renovations, it is a new film landmark in the city.[Photo provided to China Daily]
As the location of one of China's earliest cinemas, Qingdao seems to be an apt site for one of the world's largest film studios
There is more to Qingdao than beer, sailing boats and the idyllic life of those lucky enough to live near the sea.
Film has played an indispensable part in Qingdao's development over the past 100 years, the city having had its first cinemas in the early 1900s, when film and filmmaking were in their fledgling years.
In 1900, films were shown in Prince Heinrich Hotel, which was built by the Germans, making it one of the earliest cinemas in China.
Seemannshaus, or Qingdao Seamen's Club, which many culture experts regard as the first commercial cinema in China, started advertising and selling tickets in 1907.
It would not be until 24 years later that the foreign monopoly on cinemas was broken when the first Chinese-run cinema opened.
With that close and enduring relationship with film, all areas of the city, including those overlooking the water, former residences of celebrities, landmarks and streets, have come to figure in films made in both China and abroad. The city served as a backdrop for many old movies, and last year more than 200 films were shot in the city.
Blessed with an eye-catching coastal landscape, European-style architecture and well-preserved heritage, the city has been hailed as a natural studio and favored by many filmmakers and directors.
It is also the birthplace or home of many movie stars, including the veteran actor Tang Guoqiang, known for playing Chairman Mao Zedong, and Fan Bingbing, who has starred in Hollywood movies.
Qingdao, with its natural assets, economic prowess and well-developed cultural industries, has ambitions to be a top film destination with a flourishing industry chain and is now aspiring to join the UNESCO Creative Cities Network as a "City of Film".
The city is home to what is said to be the world's largest film studio, the $8.2 billion Oriental Movie Metropolis, built along the city's West Coast New Area, which combines film and television production with a theme park.
Last year the Oriental Movie Metropolis said it planned to build 45 world-class filming studios, the first 15 of which came into operation during the year.
Most of the scenes in The Great Wall, the Sino-US movie directed by Zhang Yimou, were shot there in 2015. The movie was released last year.