Celebrating a Chinese veteran of the opera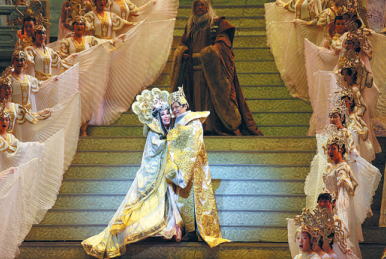 Warren Mok performs in the National Center for the Performing Arts' opera production of Turandot.[Photo provided to China Daily]
About 40 years ago, Warren Mok watched his first opera - Italian composer Giacomo Puccini's masterpiece, La Boheme - while he was studying financial accounting at the University of Hawaii.
Mok, who was born in Beijing and moved with his family to Hong Kong at the age of 6, had only sung in a school choir before that.
However, attracted by the story about the young bohemians living in Paris, Mok instantly fell in love with opera and decided to learn music despite his parents' objections.
The idea turned out to be life-changing.
With a master's degree in music from the Manhattan School of Music, Mok stood out among 100 young tenors during an audition and made his debut in Europe in 1987 at the Deutsche Opera Berlin, where he worked from 1987 to 1994.
So far, he has worked with many international opera companies and played more than 60 lead roles in operatic productions, including in Giacomo Puccini's Turandot, in Georges Bizet's Carmen and in Giuseppe Verdi's Aida.
On Oct 6, the tenor will perform in Beijing's Forbidden City Concert Hall, with repertoires including opera arias, Oh Lovely Girl from La Boheme, And the Stars Are Shining from Tosca and Toreador's Song from Carmen.
After the Beijing concert, he will perform in Wuhan on Nov 9 and in Changsha on Nov 11.
He will also perform folk songs from China and abroad, including Torna a Surriento, a Neapolitan song composed by Italian musician Ernesto De Curtis in 1902 and Somewhere Afar written by Chinese musician Wang Luobin in 1940s.
He will perform a Cantonese song, Great Wall Forever from the popular TV drama, The Legendary Fok, based on the life story of Chinese martial arts master Huo Yuanjia.