China and CEEC start new chapter with music union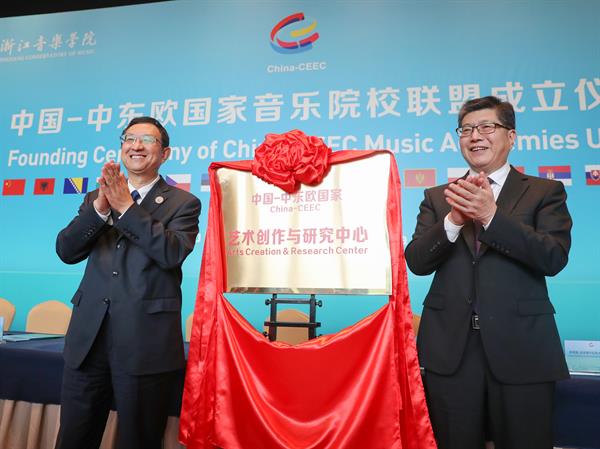 Minister of Culture of China Luo Shugang attends the foundation ceremony of the China-CEEC Music Academies Union, Hangzhou, Zhejiang province, Sept 23, 2017. [Photo/zjcm.edu.cn]
As music can be the bridge between different societies, China and the Central and Eastern European Countries (CEEC) have found a new way to enhance cultural exchanges — by establishing a music schools union.
To that end, a foundation ceremony for the China-CEEC Music Academies Union was held at Zhejiang Conservatory of Music in Hangzhou, Zhejiang province on Saturday.
Chaired by Jin Xingsheng, director of the Zhejiang Provincial Department of Culture, the ceremony was attended by officials and representatives of teachers from the college.
Chu Ziyu, Party committee secretary for the conservatory, addressed the ceremony. He said Zhejiang Conservatory of Music has visited a series of CEE countries, such as the Czech Republic, Hungary and Latvia. Both sides have seen a bright beginning to their relationship in the form of academic communications.
At the ceremony, Zhang Jianguo, deputy president of Zhejiang Conservatory of Music and presidents of CEEC music colleges signed a Declaration of the Establishment of China-CEEC Music Academies Union. An art creation and research center for China and CEEC was also established.
According to the declaration, Zhejiang Conservatory of Music and a group of CEEC universities and music schools will have more opportunities for teamwork on cultural research, performance and student exchange based on the principles of mutual respect and development. More platforms for communications will be established to promote the culture and art of China and CEEC.
Under the guidance of the cooperation mechanism between China and CEEC, also known as the "16+1 cooperation mechanism", more high quality, multi-level collaboration on creativity, the promotion of talent and performance will be carried forward. New mutually beneficial formulas of support and development for people from different cultures will be established.
The secretary of the union will be based in Zhejiang Conservatory of Music, and the president of the college serves as the chairman.
Union activities will come soon, including a China-CEEC music summer camp and a jazz summer camp.
The ceremony featured a photo exhibition on the China-CEEC dance summer camp and a jazz concert. Cradle, a fruitful product of the China and CEEC Dance Culture Union, was performed at the concert. Guests also viewed dance and Shaoxing opera training for students from Zhejiang Conservatory of Music.