'Wolf Warriors 2' continues box office dominance, catches up with 'Titanic'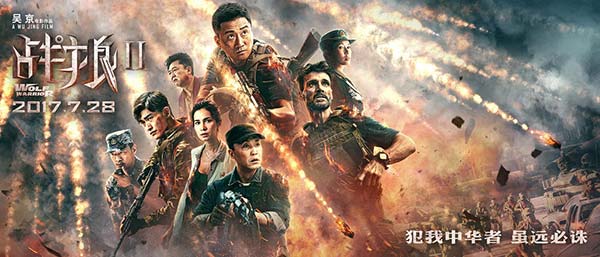 A poster of the movie Wolf Warriors 2. [Photo/mtime.com]
Chinese movie Wolf Warriors 2 is continuing its dominance at the domestic box office.
Wolf Warriors 2, the action-packed sequel to 2015's Wolf Warriors, has raked in 4.6 billion yuan, or $690 million, at the global box office so far.
The film has earned over 4.4 billion yuan on the Chinese mainland.
It has now surpassed Titanic to become the third film in history to pass the 660-million-dollar mark in one single market, only behind Avatar and Star Wars: The Force Awakens.
Wolf Warriors 2 is directed by and stars well-known Chinese action star Wu Jing.
Besides Wu, it also stars Zhang Han, Wu Gang, Celina Jade and Frank Grillo.
On August 7, after 11 days of its release, the film took in nearly 3.4 billion yuan at the domestic box office, cruising past Hong Kong movie star Stephen Chow's The Mermaid to become China's highest grossing film of all time.
Related:
'Wolf Warrior 2' wins the box office battle
'Wolf Warrior 2' promotes how China will always protect its nationals