Annual Guoxue contest draws good response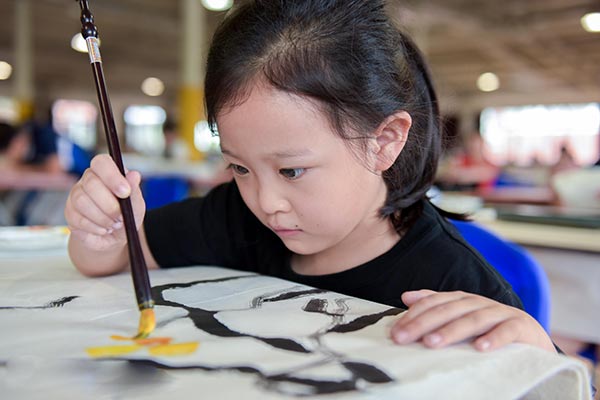 A girl paints with ink. [Photo provided to China Daily]
A group of youngsters and their parents gathered at the Beijing Royal School on Aug 6 to watch the annual Guoxue (study of Chinese traditional culture) Star Competition, launched in 2016.
Wang Nuoqian, 12, was one of the contestants who flew with her mother from Changchun in Jilin province to take part in the event. She said: "I've learned a lot from the Chinese classics, especially the historical stories."
Speaking about the event, Li Xiaoya, the CEO of Beijing-based Hanxiang, a franchised calligraphy and Chinese painting training school, said: "The study of Chinese traditional culture goes far beyond youngsters just memorizing classics or learning calligraphy and painting.
"We want to enhance their independent and critical thinking capacity and encourage them to express themselves."