Chinese Language Day festivities at UN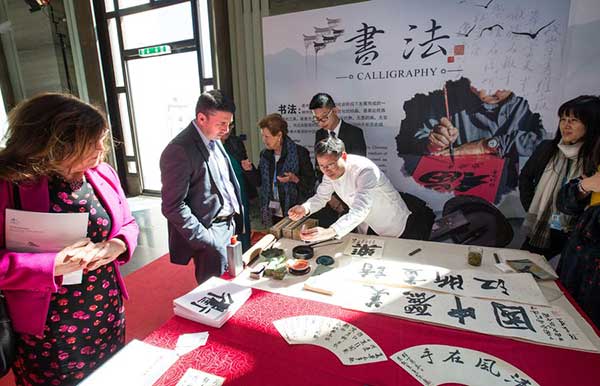 Guests enjoy a calligraphy show at United Nations Chinese Language Day celebration in Geneva, Switzerland, on April 19.[Photo/Xinhua]
"If you can speak Chinese and can write Chinese characters, you can get to know China better," Stephen A. Orlins, an expert on US-China relations, said on Thursday.
Joining UN staff members celebrating the Chinese Language Day, Orlins, who is president of the National Committee on US-China Relations, made the remarks in Chinese at the UN headquarters in New York.
The UN Chinese Language Day has been observed annually on April 20 since 2010 to celebrate the language's overall contribution to the world and to encourage more people to take it up.
This year's celebration includes a calligraphy exhibition by Pang Zhonghua, a well-known pioneer of hard-nib calligraphy in China, martial arts performances and a showcase of cultural customs of the Qiang ethnic group mainly living in China's southwestern province of Sichuan.
The event also provided UN staff members with an opportunity to try Chinese calligraphy with traditional brush, ink and paper.
Martijn Dalhuijsen, a UN staff member who has been learning Chinese for four years, wrote the two characters of the word "China" on a piece of xuan paper, a specially made soft paper used for painting and calligraphy.
Dalhuijsen, who is from the Netherlands, said he has learned traditional Chinese calligraphy through the UN's Chinese language program, and gained a better understanding of Chinese culture in the process.