Phoenix Legend releases seventh album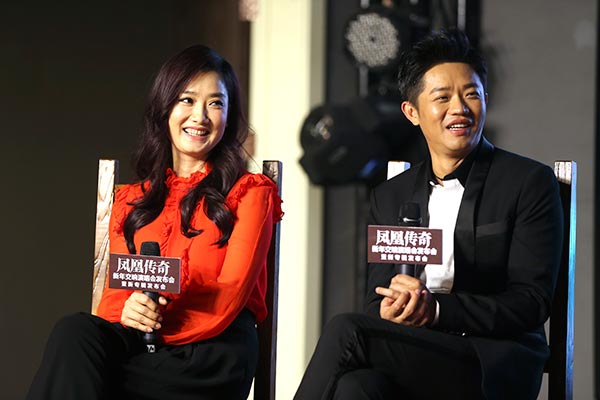 Linghua (left) and Zeng Yi of Phoenix Legend [Photo provided to China Daily]
Chinese pop duo Phoenix Legend has just released its seventh album, Far Away, in Beijing.
The album features rock, rap and Chinese folk music.
The duo also announced its upcoming show on Dec 31 at the Capital Indoor Stadium with the 220-year-old Tauride Symphony Orchestra (St. Petersburg, Russia) under the baton of Mikhail Golikov.
Besides Beijing, the duo will also perform in Shenzhen on Jan 7.
One of their best-known hits, The Most Dazzling Ethnic Trend is popular nationwide and was even played at the Houston Toyota Center during the intermission of a Houston Rockets game. It also became an internet sensation after being remixed by fans across the world.
So far, the duo has released six albums, which have sold more than 6 million copies in China since 2005. Ten of the duo's songs have recorded 1 billion online hits.
Originally from Guangdong's provincial capital, Guangzhou, the duo — rapper Zeng Yi and singer Linghua — rose to fame with songs blending indigenous melodies with rap and dance beats.
"This year marks our 12th anniversary as Phoenix Legend and we look forward to another 12 years and more," says singer Linghua.
The upcoming show will be its second venture with symphony orchestras after its first show in 2014 with the China Philharmonic at Beijing's Century Theater.
If you go:
7:30 pm, Dec 31. Capital Indoor Stadium, 141 Xizhimenwai Street, Haidian district, Beijing.
7:30 pm, Jan 7. Shenzhen Bay Sports Center, Interchange of Haide 3 Road and Keyuan Venue, Nanshan District, Shenzhen.
400-610-3721.