Exhibition in Colombia highlights Chinese ethnic groups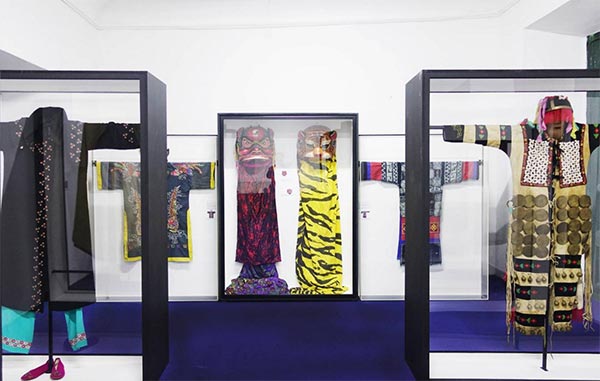 Items shown at exhibition Intimate Distances.[Photo provided to China Daily]
China has many ethnic groups whose members can be identified through what they wear on a daily basis and on special occasions. Now, Intimate Distances, an exhibition in Bogota, the capital of Colombia, is showcasing some 115 costumes, accessories and masks worn by these Chinese ethnic groups.
The exhibition, at the Colombian Academy of History, which runs through Feb 17, features exhibits from Beijing's Cultural Palace of Nationalities.
The exhibits fall into four categories: the first shows histories and fairy tales recorded by and passed down through patterns on costumes; the second demonstrates how the groups dress for festivals; the third highlights the embroidery heritage of bei'er dai (childbearer) as an example of maternal love and the fourth features the diversity of ethnic religions.
The event, which is part of the ongoing Sino-Latin American Cultural Year, is organized by China Arts and Entertainment Group under the Ministry of Culture.