Egyptians aghast at breathtaking shows of Shaolin Kung Fu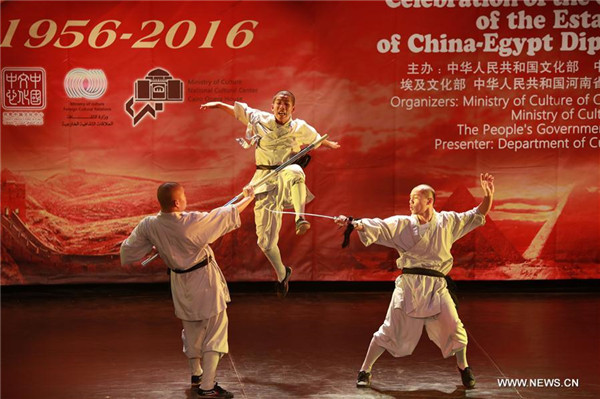 Buddhist monks from China's Shaolin Temple perform Kung Fu during a show in Cairo, Egypt, on Oct 25, 2016. The show is part of the 2016 China-Egypt Culture Year jointly launched by Egypt and China to mark the 60th anniversary of the establishment of their diplomatic relations. [Photo/Xinhua]
The audience at Egypt's Gomhoriya Theatre in Cairo applauded excitedly and stood from their seats in reaction to breathtaking shows of Chinese Shaolin warriors who perform in Egypt for two days.
"I'm stunned; I could not believe it was going to be that great," Mariam Ahmed, a 20-year-old Chinese language college student told Xinhua after the show. "I have seen this before in movies, but could not believe that it even looks greater in reality."
The show of the Buddhist Shaolin Temple Monks in Henan province is part of the 2016 China-Egypt Culture Year jointly launched by Egypt and China to mark the 60th anniversary of the establishment of their diplomatic relations.
The show performed at the night from 25th to 27th October, is hosted by the Chinese Cultural Center in Egypt with the goals of enriching and intensifying the already strong mutual cultural ties.
"These events are very important specially for people who are learning Chinese like me...this gives us much more knowledge about China as it brings the Chinese culture to us," Ahmed said.
During the 90-minute show, adult monks took the audience, which also included many Chinese, on a journey through China's mysteries and ancient history through their magical displays.
Performers from the Shaolin Temple showed their supernatural abilities by displaying extremely complicated moves and skills such as a two finger Zen, group fighting, Shaolin traditional boxing, Shaolin hard Qingong in addition to other skills like the professional use of Kung Fu weapons.
Effortlessly, the monks flew unbelievably through the air in a series of back flips and spins, holding their Shaolin weapons.