Silk Road International League of Theaters launched in Beijing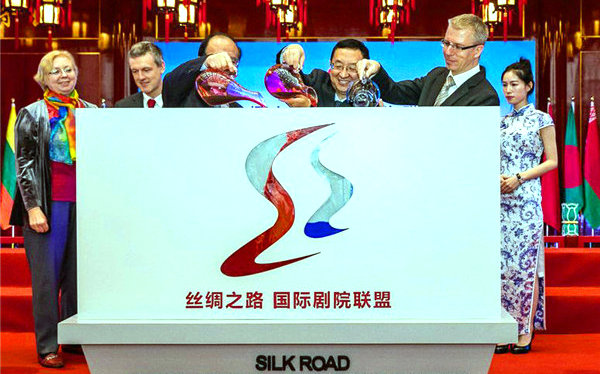 China's Minister of Culture Luo Shugang (second from right) and guests launch the Silk Road International League of Theaters at the Tianqiao Performing Arts Center in Beijing, Oct 21, 2016. [Photo by Liu Xuanyi/Chinaculture.org]
The Silk Road International League of Theaters was launched at the Tianqiao Performing Arts Center in Beijing on Friday.
Nearly 200 guests were present at the launching ceremony, including officials from China's Ministry of Culture, representatives from foreign embassies in China, and theater directors, scholars and journalists.
China's Minister of Culture Luo Shugang said the establishment of the Silk Road International League of Theaters was a creative achievement under the framework of the Belt and Road Initiative. It will enhance cultural exchange between China and foreign countries.
Initiated by the China Arts and Entertainment Group, the Silk Road International League of Theaters serves as a large multinational platform for performing arts, which aims to promote culture exchanges and improve artistic levels.
The first batch of members consists of two international organizations and 56 theaters from 21 countries and regions across the world, including China, the United States, Russia and France.
It is estimated that the league of theaters will hold more than 30,000 performances annually, attracting more than 24 million viewers totally. It will also cooperate with 28 overseas China Cultural Centers to advance art and culture communication.