Remembering a remarkable woman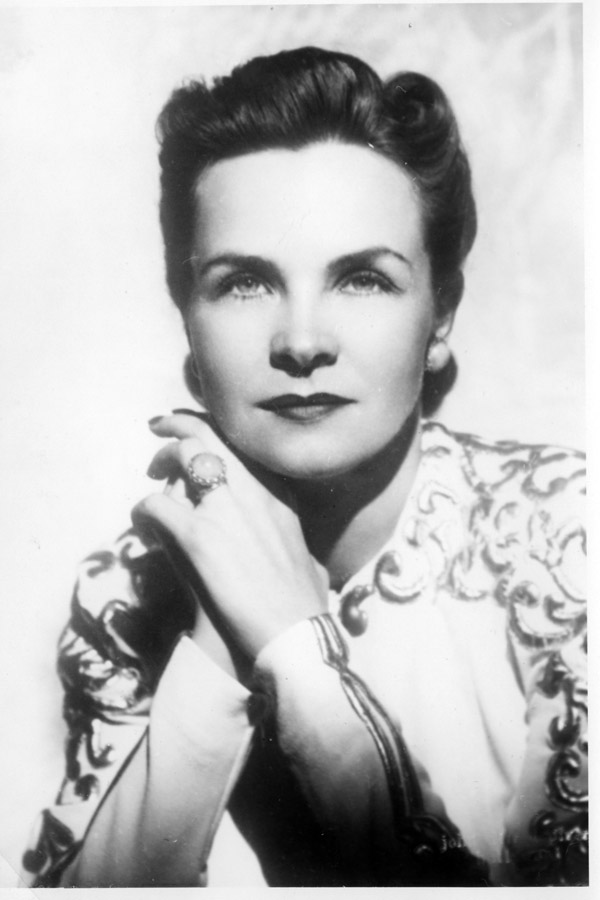 Photographer J.A. Piver asked to photograph Helen. He then put her picture in his window, since it looks like Joan Bennett. [Photo/China Daily]
Compared with Edgar Snow, the Chinese know very little about this beautiful, passionate and brave woman. However, symposiums held in Xi'an and Beijing recently aimed to remedy that.
At midnight on April 30, 1937, a beautiful American woman, 30, secretly jumped out the window of her room on the first floor of the Xijing Hotel in Xi'an, the capital of Northwest China's Shaanxi province.
Stopping by the wall facing the window, she stepped on the garbage pile and tried to climb over the wall. But as she looked over the wall she saw a Kuomintang patrol marching toward it.
It was impossible to climb the wall so she walked to the entrance of the hotel and was surprised to find the door unlocked.
Pushing open the door, she found a policeman leaning against the wall, dozing off.
He mumbled "Where are you going", and calmly she answered in Chinese that she was going home and wondered whether there was a rickshaw available.
Coincidentally, a rickshaw pulled by a man appeared.
Stepping into it, she left immediately.
Six days had passed since the 30-year-old woman from Peking had arrived in Xi'an.
She had been trying to find a chance to leave the city and go to her destination, but failed because she was closely watched by the Kuomintang police because of her husband, a world-famous journalist and writer.
Soon after she left the hotel, a man on a bicycle almost crashed into the rickshaw.
It was American Kempton Fitch, the son of George Fitch, the head of the Young Men's Christian Association in China, one of Madame Chang Kai-shek's best friends.
As planned earlier, the woman was supposed to meet him after climbing the wall.
Fitch then took her to his car, where they remained until dawn.
Then, disguised as a severely ill son of a missionary, the woman, escorted by Fitch, escaped the Kuomintang soldiers and reached Sanyuan Town, which separated the Red (the Communist Party of China) and White (the Kuomintang) regions.
There, two young Red Army soldiers came to meet them.
Later that day, a new American car was sent to pick up the woman and take her to Yan'an, where she was going to meet Mao Zedong, Zhou Enlai, Zhu De, Liu Bocheng, Peng Dehuai and officials, soldiers and common people in Red China.
It was probably one of the most thrilling days for American journalist and writer Helen Foster Snow, who later wrote books about her adventure in Northwest China, including Inside Red China, published under the pen name Nym Wales, which was regarded as a sequel to Red Star Over China by her husband Edgar Snow.
In 1936, Edgar went to Yan'an and interviewed CPC officials. With his news reports and the book Red Star Over China published in London in 1937, Edgar became the first to introduce Mao Zedong and Red China to the world.
His news reports and book had such great impact that Helen told Mao when she arrived in Yan'an a year later that the portrait of Mao, the legendary head of the "Red Bandits", by Edgar, shocked the world and Chang Kai-shek.
"Snow put a human face to the CPC and introduced the CPC leadership to an international and domestic Chinese audience," said John James Kennedy, professor at the University of Kansas.
The Snows sympathized with the Chinese people, and both of them tried to take an objective stand.
Through their diligent and professional work, the world got to know the leaders of the CPC. Then, many young Chinese, after reading the books, left home and went to Yan'an, to join in the cause to build a new China.
Now, as the wheels of history roll on, many figures, even great ones and those who were worshipped in their lifetimes, are gradually forgotten and recede into the depths of human memory.
However, the Chinese traditionally always try to remember those who offered their hand to the county in difficult times.
American journalist and writer Helen Foster Snow is one of them.
Compared with Edgar Snow, the Chinese know very little about this beautiful, passionate and brave woman.
However, in recent years, people started paying more attention to her, specially through the symposiums held in Xi'an and Beijing recently.
Helen, who arrived in China in 1931, always cared about the country.
As Paul Hyer, professor of Chinese history at Brigham Young University, said: "In the bittersweet relations between China and America, the bridging work of a few Americans stand out. One of these was Utah's Helen Foster Snow."
Helen was born into a family of intellectuals in Cedar City in Utah in 1907.
"From her active, civic minded, self-reliant, mother (Hannah David Foster), "Helen learned many things," wrote Hyer in the introduction to the book Bridging: The Life of Helen Foster Snow.
For instance, her mother, as a young lady, planned and built a small house in the pioneering period of southern Idaho. She was also a supporter of women's suffrage.
Since eight when she read The Wizard of Oz, Helen had wanted to become a writer.
At the age of 15, she published her first poem "Li'l Ph'losophy on th' Spring".
In An Interview with Myself, Helen wrote: "I had read Edith Wharton, who said that you have to stay abroad in a foreign country to get perspective before you can write about your own American experience. The contrast is what energizes your brain and talent ... Nearly all Americans went to Paris." But compared with Paris, "China had more contrast and greater exchange to the dollar."