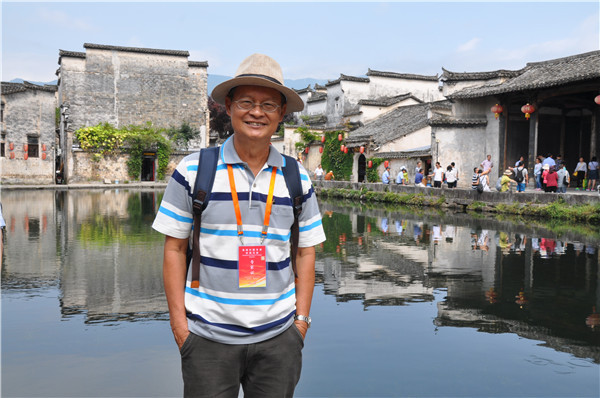 Peerasak Srinives visits the ancient villages in Hongcun, Anhui province. LIU XIANGRUI/CHINA DAILY 
Beans brought Peerasak Srinives to China decades ago.
They still do.
The Thai agronomist says every time he visits the country, it's like coming home.
Many of his former students are scattered across the country and have maintained close contact with him.
The 66-year-old emeritus professor of agronomy at Thailand's Kasetsart University and former president of the Society for the Advancement of Breeding Research in Asia and Oceania is an internationally recognized authority on edible beans.
He began researching mung beans in the late 1970s. He has since the '80s worked closely with Chinese research institutions, especially the Jiangsu Academy of Agricultural Sciences, in legume germ-plasm collection and new-variety development.
Srinives has also brought nearly 1,000 legume varieties to the JAAS and helped breed 20 new varieties that are widely grown in China.
Such cooperation has narrowed gaps between China and other countries, says Chen Xin, Srinives' former PhD student and current deputy director of the JAAS' Jiangsu Institute of Vegetable Crops.
Pests had once forced China's mung-bean production to shrink, says Chen.
But the institute and Srinives developed pest-resistant varieties that led to a rejuvenation.
Srinives' links to China began in 1983, when his university began training young Chinese scientists from various agricultural institutions.
"Chinese scientists were still trying to catch up with the world, and Thailand was one of the most-advanced agricultural research centers in Asia," recalls Srinives.
He first visited the country in 1987 to interview trainee candidates and conduct follow-ups with previous trainees.
"My impression was China was still very poor at the time," says Srinives.
Chinese people had limited food varieties, he recalls. And transportation was underdeveloped, making his travels across several provinces inconvenient.
Srinives has visited most provinces by now, since he returns almost every year.
He typically stays several weeks each time to give lectures, provide consultation and investigate research fields.
The scientist is particularly impressed with China's rapid advancements in mung-bean research.
The quality and quantity have improved significantly. China now exports some to other countries like Japan, South Korea and even Thailand.
Better seeds developed by Chinese scientists have not only produced larger yields but also enhanced food safety, says Srinives.
"I am happy to see that my students have helped the Chinese farmers to grow enough mung beans-not only for China itself but also to export back to Thailand. I don't mind eating Chinese mung beans," he says, laughing.
He's grateful that his students still regard Thailand as the source of their knowledge and him as a teacher.
Srinives says China has enhanced its research equipment so quickly that his organization often sends students to do research in Jiangsu.
Still, researchers are in turn sent from Jiangsu to his university, where they can improve their English while taking advantage of the tropical weather conditions for breeding research.
"Our collaboration continues expanding in many other ways," he says.
The focus of future cooperation will shift toward insect resistance.
Srinives often meets his former students when he visits China to discuss research or simply chat.
Many, including Chen, still seek his advice.
"They learn from me, and I learn from them, too. It's mutually beneficial," says Srinives.
He appreciates the traditional Chinese value of respect for teachers, he says.
Over the years, Srinives, who has held a number of important posts in international associations, has also used his own resources and seized every opportunity to expose Chinese scientists to global meetings and organizations.
Srinives won the 2014 International Science and Technology Cooperation Award of China for his work with the JAAS in legume breeding and genetic research.
In 2015, he won the Friendship Award, a top honor given by the Chinese government to foreigners who have made significant contributions to China's economic and social development.
He recalls being greeted by Premier Li Keqiang during the ceremony.
"The Chinese government has really honored me a lot," says Srinives.