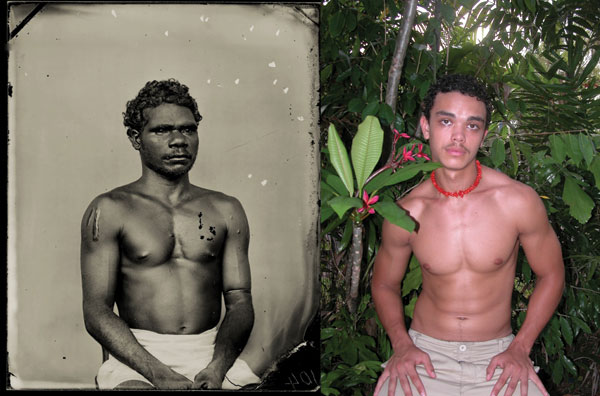 One of Gary Lee's works is displayed at the YibanYiban exhibition in Guangzhou. Provided to China Daily
Gary Lee and Sandra Hill are also presenting their art works in the exhibition YibanYiban, alongside Jason Wing, at Guangzhou's Redtory Art & Design Factory.
Lee, 62, is a Larrakia artist, born and raised in Darwin, in Australia's Northern Territory. Both his parents have ancestors with roots in Guangzhou.
For the past two decades, Lee has concentrated on photography that is centered on images of masculinity related to cultural and ethnic identities, beauty and self-projection. His China Men, a series of portraits that he captured in Beijing and Shanghai during his first tour of the Chinese mainland in 2012, is what he brings to the ongoing exhibition.
"I was keen to capture a diversity of Chinese male looks," says Lee, whose camera captured some 30 Chinese men from different walks of life, including policemen, artists and migrant workers.
The wheelchair-bound Lee ventured out to the street and requested portraits of the men, whom he randomly came across, adopting his usual street photography style.
Djon Mundine, the exhibition's illustrous curator, says that Lee has attempted to show off the looks of Chinese men, probably to counter the "Western perception" of beauty.