As June comes to an end, it's time for students who sat for the gaokao, or the National College Entrance Examination, to find out their results. Some will be happy while others will not.
However, in this diversified modern society, gaokao can not decide one's fate anymore. It's not the end of the world if one fails the exam, and he or she can still have a bright future through hard work and dedication. The following people have proven this through their own experiences.
Ma Yun, founder of Alibaba, China's leading e-commerce company
Ma Yun, a business tycoon, was unexpectedly a dwarf with his exam. He failed gaokao twice due to his math scores. The first time he got 1 mark in math and the second time 19. But he did not give up and sat for the exam a third time. On this third try he got a 79 and was finally admitted to Hangzhou Normal University. Ma said everyone can succeed as long as he or she does not give up.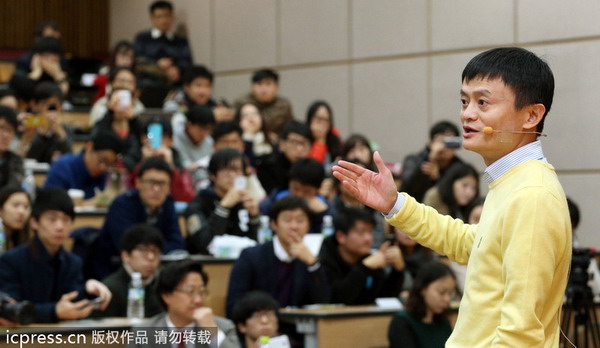 Ma Yun speaks at Seoul University in South Korea on Dec 10, 2013. [Photo/IC]
For more Culture insiders, click here