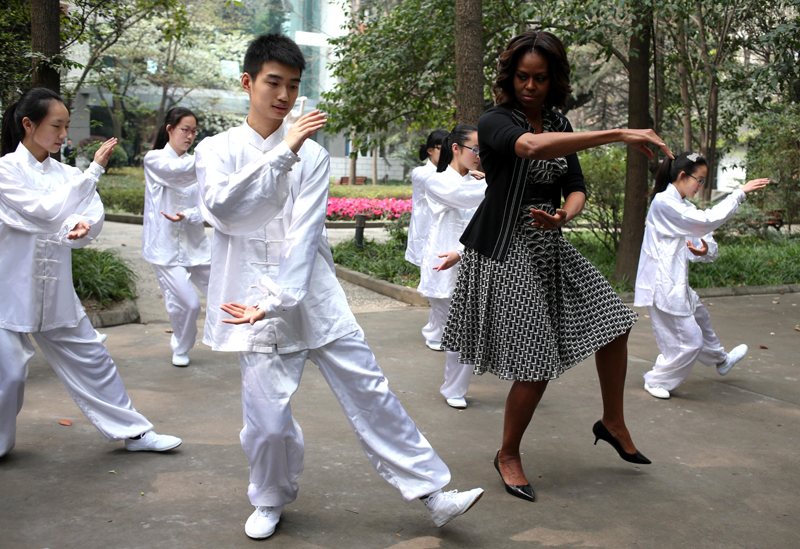 US first lady Michelle Obama learns tai chi during her visit to the Chengdu No 7 High School on Tuesday. Chengdu is the last stop of her China tour. [Photo by Wang Jing/Asianewsphoto]
Ye Zi, 18, has been practicing tai chi since 2011, and on Tuesday she was asked to tutor a special guest: US first lady Michelle Obama.
"She asked me how to remain calm in front of a huge crowd, and I told her we close our eyes," said Ye, of Chengdu, Sichuan province.
During Obama's visit to Chengdu No 7 High School on Tuesday morning, Ye found herself among a dozen young women, led by a male teacher, in a demonstration of tai chi for their guest.
Obama watched the performance attentively and then was invited by a teacher to join the young women. The first lady gamely imitated their movements before withdrawing to observe the exercise further. She then rejoined the group, doing her best to follow the young women's hand movements.
At one point, Obama turned back and found her official entourage well behind her. "Am I alone?" she asked jokingly, as if to invite others to join in the exercise. Friendly laughter ensued.
After the performance, Obama spoke with members of the group, including Ye.
"As it was the first time she had done tai chi, her hands and legs were shaking," Ye said with a smile.
The first lady performed tai chi very well for a beginner, Ye said. "She wore high heels, which are quite difficult," she said.
Wang Yong, the tai chi mentor and a physical education teacher of the school, noted that tai chi is a compulsory course and students often exercise during class breaks.
Wang performed with the students, admitting that he "felt nervous a little bit".
Before leaving, Obama shook hands with the performers and talked with them for a while.
Ye said she asked the first lady whether her daughters practiced tai chi. Michelle said that some Americans know tai chi, although her daughters have yet to learn it.
"We were impressed with the first lady, who had an easy manner and a passion for our performance," Ye said.
Related: US first lady visits China