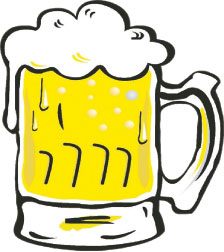 A place "where everybody knows your name" may actually be true at this Sanlitun bar, which is usually filled from early on till late with regular customers who come to enjoy the unique music and laidback atmosphere.
Located below Bar Blu in the Tongli studio, just across the street from the Pure Girls, Cheers is a great place to hang out.
This second-floor Tongli studio venue has low lighting and stone floors, which give it a distinctive cellar-like feel.
On the walls you'll see bar owner Leo's original artwork.
Although fat nude women are the subjects of his paintings, the art, combined with the music and general ambiance combine to form a stellar atmosphere.
The bar's music makers, known as the Xinjiang Band, sing in English, Spanish and Uygur.
They bang on bongos and strum classical Spanish guitars to play original songs as well as adaptations of famous classics, such as Hotel California. If you haven't seen them play, you should.
As far as drinks go, the menu is rather standard issue. Though cheaper than some of its neighbors, on weekends, Cheers remains more expensive than many Sanlitun bars.
Qingdao beer goes for 20 yuan a bottle, and mixed drinks start from 30 yuan.
Drinks on Sundays through Thursdays, however, are two for one, which competes with some of the cheapest bars on Sanlitun.
If pool is your thing, this place is the go.
The pool table, located at the back of the bar, may be one of the least busy in the area.
Unlike the hour-long wait many may have experienced at the Rickshaw, the waiting time for a pool game at Cheers is always short and sweet.
2/F, Tongli Studio, Sanlitun, Chaoyang District
135-2044-6062
(China Daily 05/10/2008 page6)