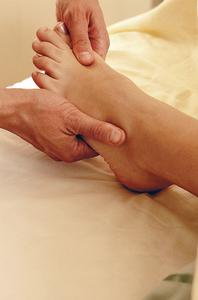 We scouted out some new pampering options at The Spa at the Hilton that would be great for mommy dearest.
We arrived early and discovered that we had full run of the facilities; send mom early so that she can take full advantage, it's complimentary. Once we were ready, we joined our therapists in a sequestered corner room with a mural ceiling and calming music. After settling on the bed with our feet soaking in warm water, one therapist began to gently knead our legs while the other, our neck and shoulders. The treatment, which uses all Pevonia products, began with a scrub made from crushed pearls and caviar extract, vigorously brushed against the skin of our hands and feet.
A cream containing salicylic acid was applied to the rough spots on our feet to help soften our skin, while a caviar extract was massaged into our hands and forearms. As we wallowed in relaxation, our "foot therapist" gently sloughed away the rough skin on our heels. With the buffing process complete, both therapists applied a cool caviar mask, onto our arms and legs as our hands and feet, so often overlooked and so often overworked, drank in the attention.
From cool to hot, our therapists lathered our hands and immersed our feet in a hot paraffin wax treatment, then massaged our extremities as we lay there while our plastic gloves and booties ensured our skin soaked up all the benefits. This treatment is perfect for thanking the hands and feet that raised us for all their hard work.
The Spa at the Hilton
Add: 4/F, Hilton Hotel, 250 Huashan Lu  
Tel: 6248-0000 ext. 2600
Cost: 1,365 yuan net