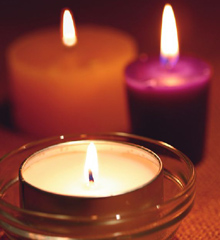 As we got out of the elevator, we knew we were going to be in for a treat as the simple decor and the serene atmosphere of Le Spa were immediately soothing.
We chose to bypass the sauna in the common changing room and headed to a private room where we slipped into a welcoming robe and a pair of soft slippers that we momentarily considered slipping into our bag on the way out. As we lay on the massage table, we appreciated how the already heated bed created a cocoon of comfort before the service even began. Our masseuse began our Serenity Package with a massage that combined traditional Chinese acupressure points with the soothing strokes of a traditional Balinese oil massage.
The Chinese massage wasn't exactly relaxing as our therapist energetically kneaded the tension out of our body, but it was well-balanced by the caressing strokes of the oil massage. We were roused from our massage-induced daze long enough to sit up and allow the therapist to apply a self-heating clay mask for us to lay on while we enjoyed a Phytomer hydrating facial, perfect for our winter-worn complexion. The body mask, which draws out toxins from the skin, was a welcome surprise as it more than heated up our back and provided a melodic "snap-crackle-pop" accompaniment to the soothing music already wafting through the room.
Our therapist skillfully applied a combination of Phytomer products to our face while dunking our hands in a paraffin hand treatment. After three hours of pampering, we walked out of the spa refreshed, well-oiled and completely relaxed.
Add: 10/F, 789 Nanjing Dong Lu
Tel: 33189999 ext. 7900
Cost: 1,388 yuan (2,170 yuan)