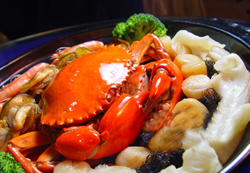 It has taken us some time to finally get ourselves over to Roomtwentyeight to try out the food. Rob had been down earlier to the URBN hotel, though (the restaurant is in the lobby), and it had already gotten his seal of approval.
As our group waltzed in we were immediately impressed by its sleek but welcoming layout. Some friends were already waiting for us in the lounge, a tiny but important detail that many restaurants overlook -- a welcome addition at roomtwentyeight. The restaurant's simple design managed to impress. It's both minimal and warm, a rarity among the contemporary Loft-style venues, which all too often seem to forget that a customer will actually be spending time there.
After taking our time catching up on cocktails, we were brought to our table by the laid-back service -- another rarity in Shanghai, a city filled with either the most stressed out or bored service in the world. It's rare you get wait staff that seem comfortable with what they are doing and actually seem like they want to be there.
Whilst waiting for our friends who'd ventured outside for a ciggy (no smoking inside) we were handed the oversized menu. Simple yet innovative dishes were a welcoming sign. For a medium size venue, the menu was extensive enough to cover everyone's taste. This aspect is always great, and with etiquette aside, I was already greedily checking out what others had ordered in the hopes of getting a sample taste.
The appetizers all looked good -- I wished it were dim sum or tapas so I could sample everybody's. I chose the foie gras (68rmb) for my appetizer and the Suckling Pig (128rmb) for my main. The foie gras was delectable and my Suckling Pig emerged on a bed of scalloped potatoes with extra crispy skin (just the way I like it). A tasty alternative if you're not into pork or Jewish, but are, like me, a skin freak, is the crispy skin fish (128rmb). The others ordered roasted chicken (128rmb), prawns (78rmb), and sautéed scallops (78rmb), all of which looked good.
In my mind this was modern Australian cuisine done to perfection. Before you jump off your chairs, Australian cuisine is indeed something definable. Well, my first experience eating these simple modern dishes was in Sydney, so I label anything I eat that reminds me of Australia to be Australian Cuisine. Okay, so now you can email your profane reproaches. Actually, I just want to expel the myth that all Australians eat are kangaroos, crocodiles, and meat pies.
After another round of ciggies we moved onto dessert. (By the way, has anyone noticed the latest trend in non-smoking venues? Isn't it great? But if you're a smoker there a wonderful garden outside to puff away in.) The dessert continued to impress: a chocolate truffle (45rmb) that was probably too rich to be healthy, matched well with the flat white coffee (just like in Oz). I scarfed a Baked Chocolate (52rmb), which was palatable but, in all honesty, did not compare to the other sweets. The others ordered Pear &Rhubarb Crumble (42rmb), which they complimented highly.
Oh and of course, the wine. My basic wine knowledge tells me the selection looked pretty damn good. As for what I had? I just can't seem to remember.
If I had to rate Roomtwentyeight, I'd give it my two thumbs up.
URBN hotel
Tel: 021-51534600
Address: 183 Jiaozhou Lu