Xi expresses confidence in new HK chief executive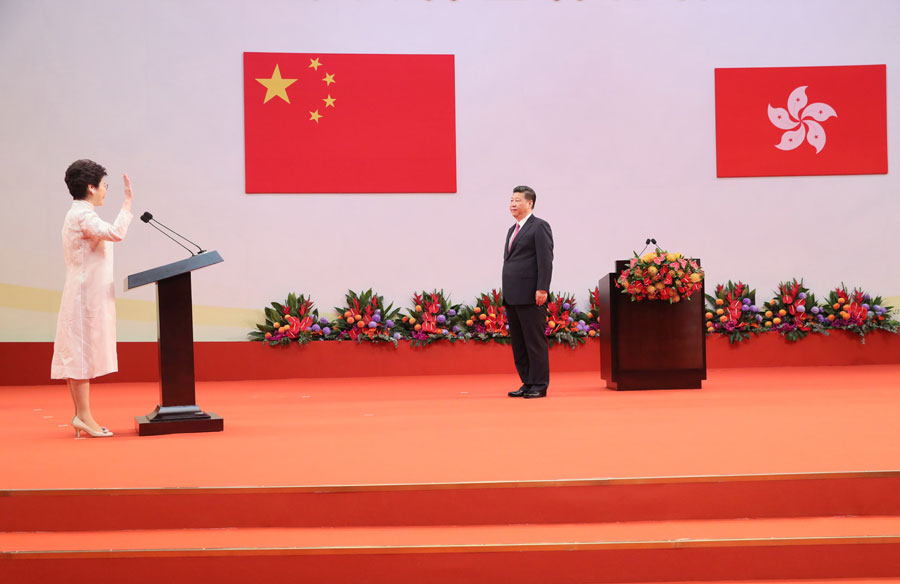 Lam Cheng Yuet-ngor (L) is sworn in as the Chief Executive of the HKSAR before Chinese President Xi Jinping, who oversees the swearing-in ceremony, at Hong Kong Convention and Exhibition Center in Hong Kong, July 1, 2017. [Photo/Xinhua]
Calling them the "key few," a term Xi has used to refer to leading officials at central, provincial/ministerial and local levels, the president said they constitute the "core force" in implementing the "one country, two systems" principle and the HKSAR Basic Law, and in administering Hong Kong.
They must position themselves at the national level when carrying out their work and dealing with problems, in order to conscientiously protect national sovereignty, security, and development interests, and fulfill their duties to the nation.
"One country, two systems" is a great pioneering initiative unprecedented in human history, Xi said.
He called on them to face up to challenges and take initiatives to ensure comprehensive and accurate implementation of the "one country, two systems" principle, resolve conflicts and difficulties involving the economy and people's well-being which had accumulated over time, and improve youth education on national history and culture.
They should also endeavor to crack down and curb "Hong Kong independence" activities in order to safeguard the overall stability of the Hong Kong society, Xi added.
As a holistic entity, the HKSAR government's administrative team should fully carry out and improve the executive-led system with the chief executive as its core, Xi noted.
He encouraged the team to properly deal with the relationship between executive and legislative bodies so as to ensure the government's smooth and effective governance.
Conscientious efforts should be made to uphold unity of the administrative team and the authority of the chief executive, Xi said, calling on the team to jointly safeguard the credit and prestige of the government as a whole.