Xi draws 'red line' for handling mainland-HK relations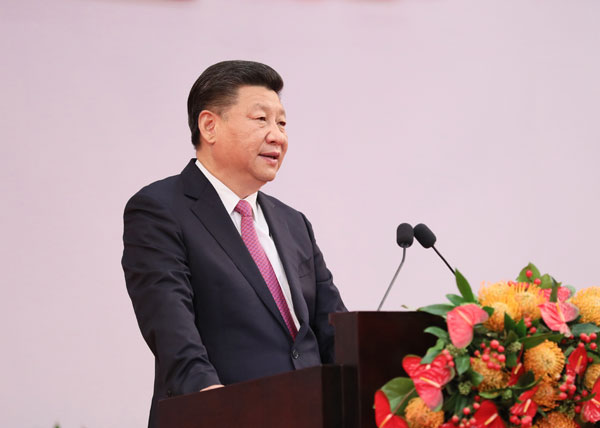 Chinese President Xi Jinping makes remarks at a gathering celebrating the 20th anniversary of Hong Kong's return to the motherland and the inaugural ceremony of the fifth-term government of the Hong Kong Special Administrative Region, in Hong Kong, July 1, 2017.[Photo/Xinhua]
HONG KONG -- President Xi Jinping Saturday drew the "red line" for handling relations between the mainland and Hong Kong, warning against attempts to undermine national sovereignty or challenge the central government's power.
"Any attempt to endanger national sovereignty and security, challenge the power of the central government and the authority of the Basic Law of the HKSAR or use Hong Kong to carry out infiltration and sabotage activities against the mainland is an act that crosses the red line, and is absolutely impermissible," he said.
Xi made the remarks at a gathering celebrating the 20th anniversary of Hong Kong's return to the motherland and the inaugural ceremony of the fifth-term government of the Hong Kong Special Administrative Region (HKSAR).
Hong Kong people enjoy more extensive democratic rights and freedom than at any other time in its history, he said.
"The people of Hong Kong, now masters of their own house, run their local affairs within the purview of autonomy of the HKSAR," he said.
The president stressed the importance of having a correct understanding of the relationship between "one country" and "two systems."
The concept of "one country, two systems" was advanced, first and foremost, to realize and uphold national unity, according to Xi.
"In conducting day-to-day affairs, we must be guided by a strong sense of 'one country,' firmly observe the principle of 'one country,' and thus correctly handle the relationship between the HKSAR and the central government," he said.
On the other hand, Xi said, the "two systems" should and have every reason to stay in harmony and reinforce each other on the basis of "one country."
"We must both adhere to the 'one country' principle and respect the differences of the 'two systems,'" he said.
The central government will unswervingly implement the policy of "one country, two systems" and make sure that it is fully applied in Hong Kong without being bent or distorted, he said.