Xi expresses confidence in new HK chief executive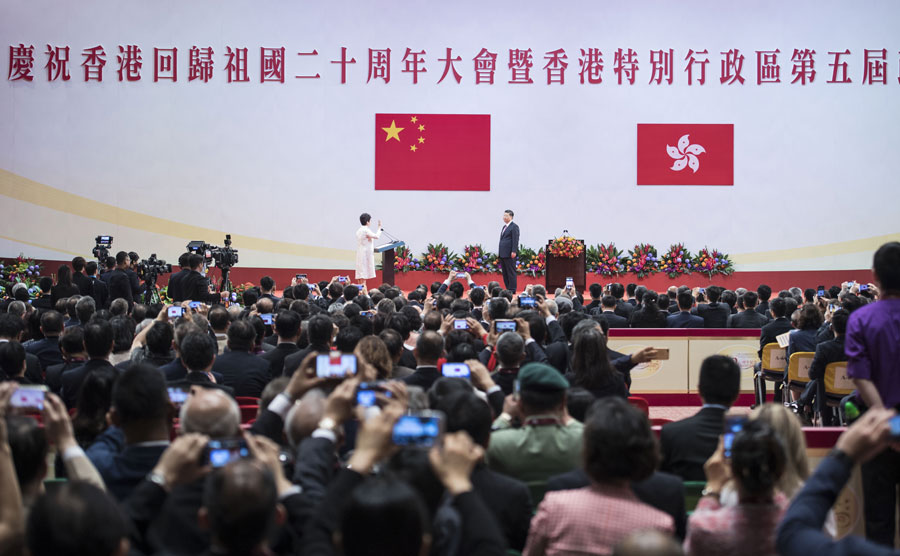 Lam Cheng Yuet-ngor (L, rear) is sworn in as the Chief Executive of the Hong Kong Special Administrative Region before Chinese President Xi Jinping (R, rear), who oversees the swearing-in ceremony, at Hong Kong Convention and Exhibition Center in Hong Kong, July 1, 2017.[Photo/Xinhua]
HONG KONG -- President Xi Jinping Saturday expressed confidence in the new chief executive of the Hong Kong Special Administrative Region (HKSAR) leading the Asian financial hub to achieve new development.
In their meeting shortly after Lam Cheng Yuet-ngor was sworn in, Xi said he believed Lam can lead the new HKSAR government and all sectors of Hong Kong society to score new achievements in various undertakings.
As Hong Kong marks the 20th anniversary of its return to China, Xi said "great responsibilities and a glorious mission" had fallen on Lam's shoulders.
"Hong Kong people are placing great hopes in you, and the central government also has high expectations for you," Xi told Lam.
He urged Lam to earnestly carry out her duties as the chief executive, implement the "one country, two systems" principle in a comprehensive and accurate manner, and safeguard the authority of the country's Constitution and the HKSAR Basic Law.
Efforts should also be made to further develop Hong Kong's economy, improve the well-being of its people, and maintain the region's prosperity and stability, Xi said.
"The central government will give full support to you and the new HKSAR government to administer Hong Kong according to law and break new ground in the great cause of 'one country, two systems,'" Xi said.
Lam, for her part, said Xi's Hong Kong trip is a symbol of the central government's support for the HKSAR, adding that Xi's speeches will boost confidence in the SAR's future.
She said she will bring into full play Hong Kong's advantages during her five-year term, and "do a good job together with the administrative team under the support of the central government."
After the meeting, Lam accompanied Xi to meet key figures of Hong Kong's executive, legislative, and judicial bodies.