A piece of Hong Kong: Street spirit
Editor's note: Gang wei, literally meaning Hong Kong taste, is a concept often talked about, but almost impossible to define. No one can tell what the taste is exactly, yet it can be found everywhere in the city - in the ting-a-ling of the trams, the shumai in tea houses and the burning incense in the Tin Hau Temple. As the Hong Kong Special Administrative Region celebrates the 20th anniversary of its return to China, we bring the series A piece of Hong Kong to try and explore the spirit of Hong Kong from some of the most intriguing aspects of the city.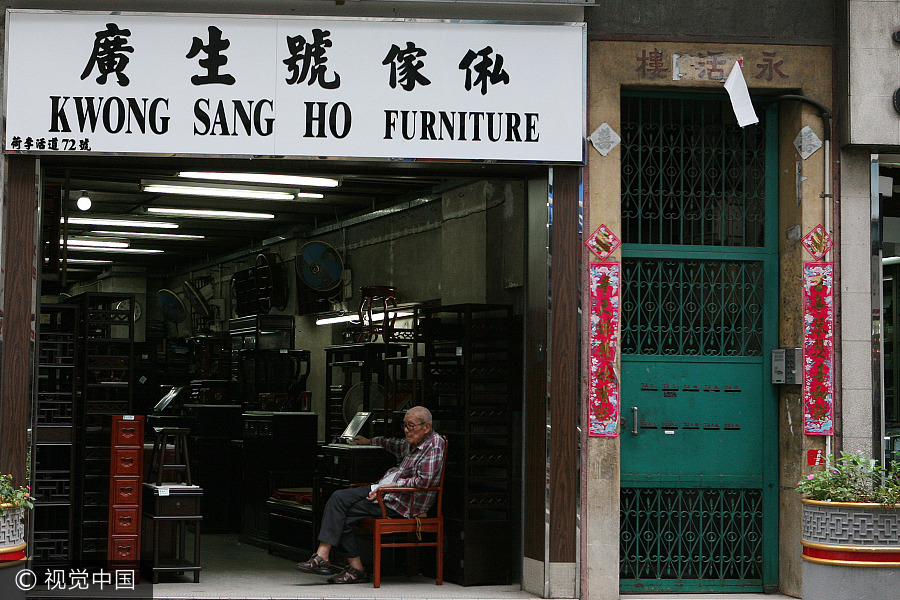 [Photo/VCG]
Hollywood Road
As Hong Kong's second oldest road, Hollywood Road was built in 1844, much before the more famous Hollywood in California was given its name.
The road, linking Sheung Wan with Central, used to be a place where Chinese merchants came to trade antiques and artifacts with Europeans. Today, it is home to a great variety of art galleries and antique shops. Here, travelers can find all sorts of trinkets and art: from Chinese furniture, porcelain ware and Buddha sculptures to Tibetan rugs, Japanese netsukes and Coromandel screens. However, it may take the eyes of a historian to pick the truly rare and valuable antiquities from the trinkets sold to clueless tourists.