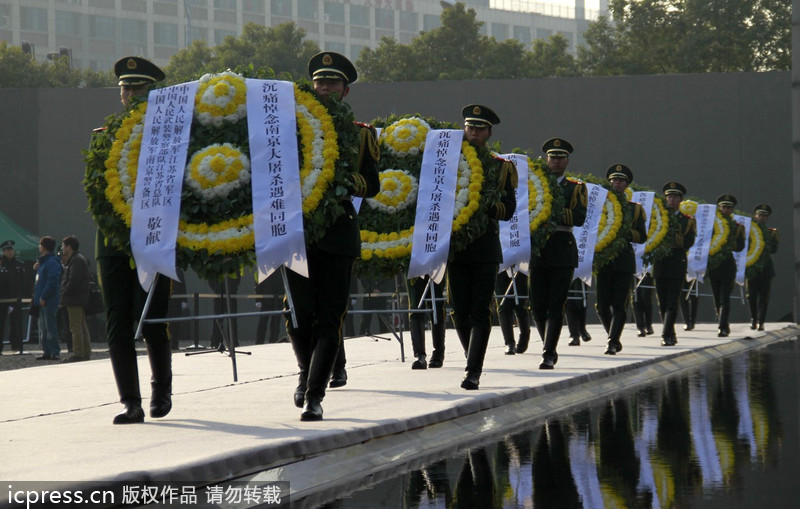 Armed police present wreaths in memory of the Nanking Massacre victims at the Memorial Hall of the Victims in Nanjing Massacre by Japanese Invaders in Nanjing, capital of East China's Jiangsu province, on Dec 13, 2013. About 5,000 people attended the peace assembly to mark the 76th anniversary of Nanjing Massacre, a six-week holocaust that killed about 300,000 people in December 1937. [Photo/icpress.cn]
During the Japanese occupation of China, an estimated 30 million Chinese were killed. In the Nanking Massacre, at least 369,366 people were slaughtered and 80,000 women were raped by Japanese invasion troops.
The horror began on the morning of December 13,1937, when the Japanese Imperial Army captured Nanjing, which was then China's capital. Soldiers went through the streets indiscriminately killing Chinese men, women, and children without apparent provocation or excuse until in places the streets and alleys were littered with the bodies of their victims.
Thousands of women were raped by Japanese soldiers; death was frequently the penalty for the slightest resistance by a victim or members of her family. Even large numbers of young girls and old women were raped throughout the city, and many cases of abnormal and sadistic behavior in connection with these rapes were reported. Many women were killed after the act and their bodies mutilated.
For the next six weeks, while horrific rape continued, wholesale murder of male civilians was conducted with the apparent sanction of the Japanese high command. Hundreds of thousands of civilians and disarmed ex-soldiers were arrayed in formation, their hands bound behind their backs, and marched outside the city wall where, in groups, they were beheaded, or buried alive, or bayoneted, or raked with machine-gun fire, or doused with gasoline and burned.

Special: China-Japan relations 
Opinions:
Nanjing Massacre is undeniable
China slams NHK's denial of Nanjing massacre